Benefits Of Rosemary
In fact, it is not known that rosemary, which we use as a spice for purpose of giving taste and pleasant smell to meals, has many benefits to health. The rosemary, which remains green in every season and is a bush-type plant, is pin-leafed and dark green leaves do not shed during winter months.
In recent years, name of slimming tea is frequently mentioned. Almost all slimming tea is included in content.
The contents of rosemary are tannin, bitter substances, organic acids, glycosides and volatile oils.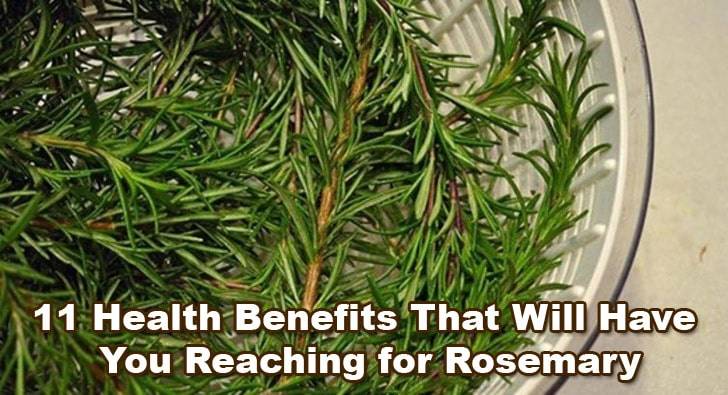 Health Benefits Of Rosemary
It opens mind, helps thyroid, heart and vascular diseases, cleans blood and eliminates sleepiness. Wash hair with water obtained as a result of boiling and brewing gives health and shine to hair.
By those who want to lose weight by drinking tea again to cut off appetite prevents eating too much. Rosemary also found in cosmetics sector, skin renewal, helps to prevent acne.
✓ Helps To Lose Weight: Fresh or dried rosemary plant is prepared and consumed as tea helps to lose weight easily by cutting appetite. In addition, application of oil obtained from leaves of rosemary plant to waist and hip region accelerates thinning.
However, rosemary oil, which helps to get rid of cellulite from women's fearful dream, is applied to cellulite region by massaging for 10 to 15 minutes. It is very effective both for thinning and smooth appearance of skin.
✓ Prevents Cancer: Rosemary contains carnosal known as a very powerful anti-cancer component. Scientific research on this subject, breast cancer, prostate cancer, colon cancer, leukemia and a healing source that could be effective against skin cancer.
Experiments by scientists on mice revealed that Rosemary applied to mice for two weeks reduced cancer effect by 76%.
✓ Improves Memory: This topic has been on agenda of science since ancient times. Books have been written on this subject even in the 1500's.
But modern science has shown that rosemary has a very positive effect on brain and nervous systems. It has been shown to be an important source of healing for memory loss and dementia.
It has been determined that rosemary contains a diperspene called carnosic acid with neuro-protective properties.The results of research on this subject are really remarkable.
In a study, subjects were given rosemary essential oil and memory speeds were controlled in cabins.
And as a result, memory of people who take rosemary oil work more effectively than people who did not have been revealed. Besides, has been determined that rosemary has a positive effect on mental health.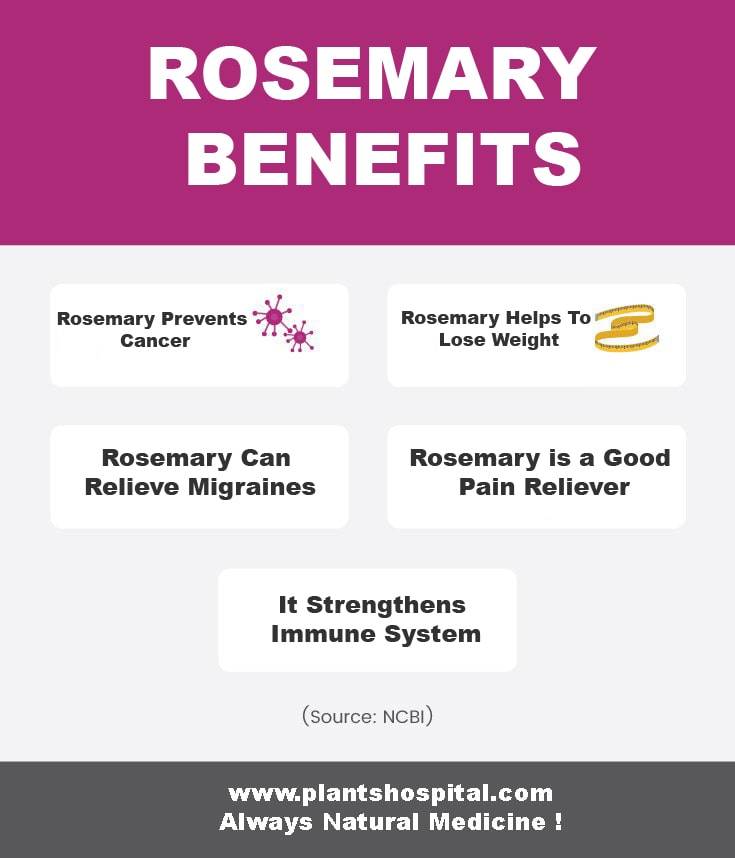 ✓ Can Relieve Migraines: It has been a natural treatment method for migraines for centuries. If you are suffering from migraines, put some rosemary in a saucepan and put a towel on your head to keep your face open and lean towards steam from saucepan.
Breathing to steam for 10 minutes. This will help relieve migraines and help brain function better.
✓ Good Pain Reliever: It can relieve not only migraine pain, but also severity of muscle and joint pain when essential oils contains are applied to skin. For this, is enough to apply massage to part of pain.
✓ Allergy And Infection Problems: It has been scientifically proven to be good for inflammation, Allergy and infection problems. It plays an important role in inflammation or infection process and eliminates excess nitric oxide.
✓ It Strengthens Immune System: It removes many diseases, especially stomach ulcers. Anti-inflammatory and anti-carcinogenic properties contribute to immune system in general.
✓ Protects Health Of Digestive System: It plays an important role in solving problems related to stomach, constipation, indigestion and almost all other digestive system. It also protects body against food poisoning and helps to clean. Eliminates negative effects of food poisoning.
✓ Important For Hair Health: Protects health of hair, may prevent hair loss. In addition to preventing hair loss, can cause hair to come out again.
✓ It Can Resolve Liver and Respiratory Problems: It is possible to say that rosemary is a very effective mouthwash. Rinsing in mouth with warm water removes smell of breath, protects mouth health. Rosemary also helps to relieve respiratory problems.
The smell of essential oils opens airways, relieves inflammation in trachea and makes breathing easier. Apart from this, can relieve headache problems caused by sinusitis.
Rosemary has been used as an alternative to liver treatment for centuries. Cleans liver from toxic effects. In studies on mice, it is demonstrated that fixes liver from cirrhosis and other diseases.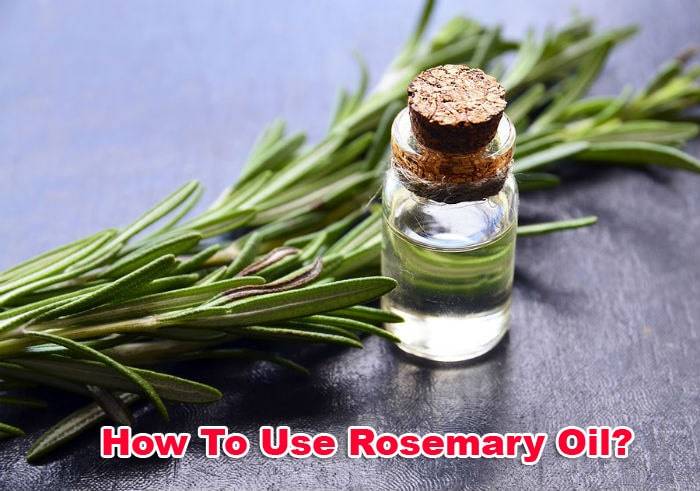 Health Benefits Of Rosemary Oil
Rosemary essential oils are obtained from flower tips of plant through steam distillation. This is one of the most popular aromatherapy oils.
It is important to use clear and clean scented oils to obtain important health ingredients such as vegetable foods, antioxidants and essential acids. It is very useful for memory, is widely used for elimination of respiratory diseases and pains.
Increases memory and mind activities. It is a very good mental stimulant, increases mental awareness.
It is used by students to increase concentration of memory and improve memory. At the same time, because of contributes to mood, students use extensively in order to avoid stress during examination times.
Treatments of Alzheimer's disease. Scientific studies have shown that rosemary essential oil is beneficial for people with Alzheimer's disease. It helps to increase cognitive function.
Strengthens immune system. Rosemary essential oil stimulates powerful weapon antioxidant activity to fight infection and other diseases.
It also contributes to fight against diseases caused by free radicals, such as cancer, heart disease, etc.
Rosemary oil has been proven to be effective in alleviating sore throat swelling and is therefore used to treat allergies, colds, sore throat and flu.
Antiseptic-resistant respiratory infections can be treated with rosemary oil.
Rosemary oil is good for pain. The benefits of rosemary oil are very high in treatment of headache, muscle aches, rheumatism and arthritis. This fat can be effective in sprains and similar cases when applied to massage affected area.
It is also used as massage oil or when used in bathroom diluted with cramps, aches and spasms, neck, rheumatism is good for other pain.
Rosemary oil is beneficial in dental health. It removes bad breath. You can get rid of gum problems and bad breath by mouthwash.
Rosemary oil can also contribute to skin and hair health. It is good for all skin types because of contains a wide range of foods such as iron, calcium, vitamins and antioxidants.
For this reason, skin care, cleaning, soap, face masks, toner and cream is a commonly used plant.It rejuvenates skin, fights acne. It can slow aging of skin.
It is effective against skin infections. It can be effective against chronic skin diseases.
Rosemary oil also makes important contributions to hair health. For maximum benefit, carrier liquid oils such as coconut, olive or almond oil can be used.
Darkens color of hair, resolves problem of dandruff, can resolve hair loss problems.
How To Use Rosemary Oil?
This oil is especially useful for skin and hair health. It can even treat chronic skin diseases. To get maximum benefit from rosemary oil, add almond, coconut, olive oil and apply to affected part of skin by massaging. You can also use to relieve muscle pain because of is good for muscle and rheumatism pain.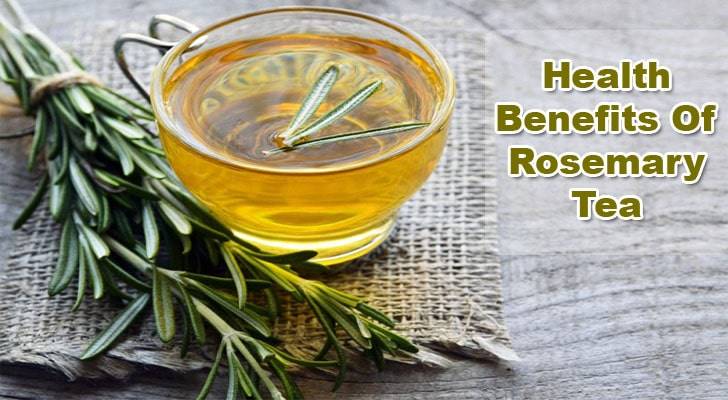 Health Benefits Of Rosemary Tea
~ It grass is a variety of plants that can grow up to 2 meters. It resembles a pine tree as an image and does not shed leaves during winter months.
~ Leaves are different from classical leaves and are like spears. Oils are extracted from leaves of rosemary grass and these oils provide many benefits described in detail above.
~ Rosemary weed provides excellent benefits in many areas from cancer to digestive system, skin health to nervous system.
How To Prepare Rosemary Tea?
> Rosemary tea is very simple to prepare.
> For this, a large glass of water and 2 sugar spoon dried rosemary leaves are sufficient.
> Boil rosemary leaves in water and allow to infuse for 8-10 minutes, do not consume as cold.
> For adding honey, lemon, rosehip molasses or other types of molasses into to get more yield after heat.
Damages Of Rosemary
It is a food source that can be consumed safely in terms of health. So far, there is no evidence of any damage to healthy people. However, excessive consumption and some special cases may have side effects.
x It is not recommended for epilepsy patients because makes serious warnings to memory and brain functions.
x We recommend that patients with neurological problems should consult with their doctor before use.
x We do not recommend that mothers and mothers who are pregnant and breastfeeding candidates should be consumed, or we recommend that they be consumed under supervision of a doctor.
x We do not recommend this oil and rosemary tea to blood pressure and blood pressure patients.
Plantshospital.Com Recommendation
Rosemary is a very useful plant in terms of health, regular and correctly used as a person turns Terminator if we say we do not exaggerate. It provides benefits to skin and skin from outside of body.
Recommended Articles:
The Wonderful Health Benefits Of Calendula & Calendula Cream & Tea
How to Start a Lawn Care Business? How To Mow A Lawn? (9 Easy Steps)
Neem Leaves (Azadirachta indica): Health Benefits, Uses And Warnings
6 Best Health Benefits Of Ginseng And Ginseng Tea (Panax quinquefolius)
Health Benefits Of Purple Cabbage & Pickled Purple Cabbage Recipe