Features Of Argan Oil
Argan oil is derived from the argan tree, which we have heard frequently in our country for the last few years. The Argan tree, which only grows in the southwest region of Morocco, can extend to 10 meters and live between 150 and 200 years.
The Argan tree with small yellow and green flowers is also called the Moroccan olive tree. Argan oil is obtained from its fruit which has a soft inside but hard shell external.
June and July like the fruit of the tree to fall into the soil begins to mature like the month of May. Argan tree has very large thorns, so it is difficult to collect the fruits.
It usually grows in barren areas and extends its roots to the lower parts of the soil in order to find water. Of course, this is one of the most important factors preventing erosion. The endangered Argan tree, protected by UNESCO, is now extinct.
It contains alpha, gamma, and beta. It also contains rich amounts of vitamin E. It is widely used for skin and hair health because it contains plenty of vitamin E.
Top 8 Health Benefits Of Argan Oil
It is used mostly in skin and hair care, argan oil has nourishing properties inside the nails and body.
It helps to make hair more shiny and healthy and prevents the formation of hair breakage. It also helps repair broken ends.
• Benefits To The Skin: Provides renewal by nourishing the skin. It has anti-aging properties and helps to remove wrinkles on the skin. It allows the cells in the skin to regenerate itself. It prevents the formation of under-eye bags.
Another feature of Argan oil is moisturizing the skin. It is also widely used for moisturizing and softening the skin.
Because it contains a high amount of vitamin E, it gives the skin a natural shine. It can be used throughout the body, including the face and neck.
As a skin lotion, it can be applied to the skin by applying a few drops of massage.
Editor's Pick:
• Cleansing From Germ: It is also a good source of vitamins and Minerals. Argan oil, which can achieve this because of its antioxidant properties, prevents premature wear of the skin, does not allow aging, removes wrinkles and gives a healthy appearance to the skin.
• For Dry Skin: People with dry skin begin to increase air problems especially in the winter months, as well as skin problems with the burning of heaters and chimneys in indoor areas. Dry skin can cause serious problems because it is thoroughly itchy and begins to fall out.
It can eliminate this problem because it contains a lot of vitamin E and different acids. It can also treat damaged skin, caused by dryness.
• For Acne Treatment: Acne is a skin condition that affects the skin and can be treated with topical antibiotics. But argan oil can play a major role in restoring skin health and can even help eliminate acne. Argan oil, oil does not contain natural ways to moisturize the skin and restore health.
Apart from that, damaged cells can be restructured and the resulting inflammation can eliminate. Applying argan oil to the damaged part by massage can help eliminate acne problems. Applying argan oil twice a day will contribute to the skin.
• It Is a Preservative: It is an important ingredient in protecting skin health as well as eliminating skin diseases due to its antioxidant properties. It can prevent irritations, especially in dry skin.
Read: 14 Best Health Benefits Of Galangal For Melanoma, Cancer And More
Argan Oil As Conditioner: Argan oil is known to give the hair a soft and silky shine. Argan oil is an ideal conditioner and is even used as an alternative treatment for frizzy and broken hair. Besides these, it gives a stylish and healthy appearance to the hair.
• During Pregnancy: Cracks are a problem for many pregnant women, but argan oil can offer excellent solutions to stretch marks and sagging, wrinkled skin after birth.
Argan oil contains plenty of vitamin E to increase skin elasticity Argan oil is also the right choice to soften and soften the skin during pregnancy.
• Foot And Hand Care: The softening feature of argan oil eliminates fragile nail structures, dry hands and cracks in feet as well as harsh skin structures.
Softens foot and hand skin and gives flexibility. For this, before you go to bed every night, your nails, hands, and feet with a few drops of a massage can offer a natural solution.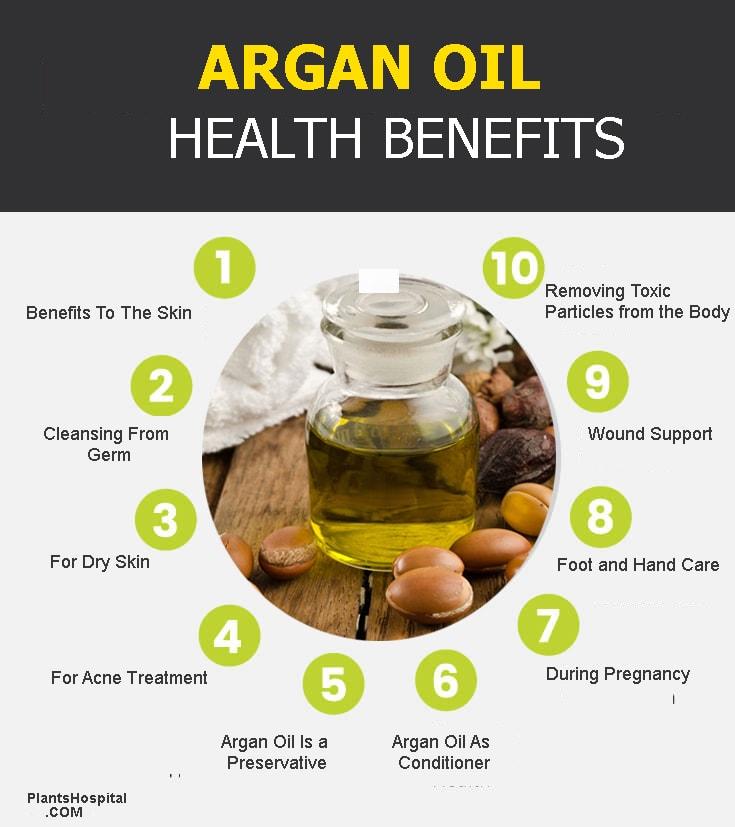 Other Benefits
1.) It is commonly used for skin and hair health. The most important reason for this is that it contains plenty of vitamin E.
2.) The sulfur contained in Argan soap can contribute to the skin in an incredible sense. In addition, it protects the skin from harmful UV rays and also contributes to skin cleansing.
3.) Another characteristic of Argan soap is that it removes infections in the skin. It is a good choice to get rid of bad bacteria and germs.
4.) Argan soap has the ability to protect skin cells as well as eliminating germs.
5.) Acne can be a treatment tool for those with problems, can help argan oil at the point of elimination of acne.
PlantsHospital.Com Recommendations
1.) It is possible to say that argan oil has amazing benefits, especially for skin and hair.
2.) So we can say that it serves human health as a natural form of treatment.
3.) It is important to remember that the skin is very healthy and healthy.
4.) We definitely do not recommend the oral consumption of this herbal oil.