What are Benefits of Safflower Oil?
Safflower and Safflower oil is a thistle-like, annual plant grown in countries such as the United States, Mexico and India.
Safflower oil is one of the oldest products grown by humans and oil obtained by pressing safflower seeds is well known for both nutritional values and health benefits. Therefore, is a suitable alternative for traditional cooking oils such as coconut oil or olive oil.
Safflower plants are very similar to sunflower and thistle plants. Its color is yellow orange. The oil obtained from safflower seed has a natural bitterness.
This safflower oil is used frequently in beauty products and dishes.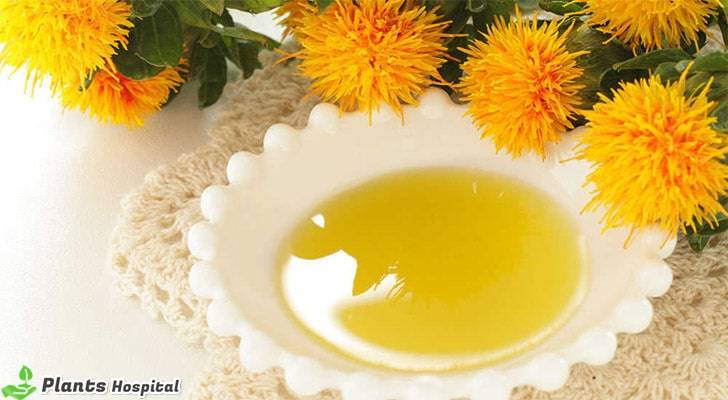 Health Benefits of Safflower Oil
• Good for Heart Health: It contains very high levels of omega-6 fatty acids, one of beneficial types of fat body needs. It is also known as linoleic acid.
This acid usually reduces in risk of other health conditions, such as heart attack and stroke, as well as possibility of atherosclerosis. Safflower oil helps body maintain a healthy balance of body cholesterol levels.
• Supports Diabetes Control: Omega-6 fatty acids can keep blood sugar levels in balance. Therefore, people suffering from diabetes benefit from safflower oil to manage their blood sugar levels. This healthy oil can also be effective to prevent development of diabetes.
• Helps to Lose Weight: It is known as a good choice for people who are trying to lose weight. Safflower oil, rich in omega-6 oil, usually burns instead of storing oil. This oil, which is used in cooking stage of vegetables, can also be used by people who suffer from obesity without having to change their diet too much.
• Source of Vitamin E: Even a tablespoon of safflower oil can be an excellent source for vitamin E. Vitamin E is an antioxidant that helps protect cells from sun exposure, free radical damage from cigarette smoke and other pollutants. According to Bureau of Dietary Supplements, vitamin E can play a role in maintaining a healthy immune system, cell signal, and even plaque-free arteries.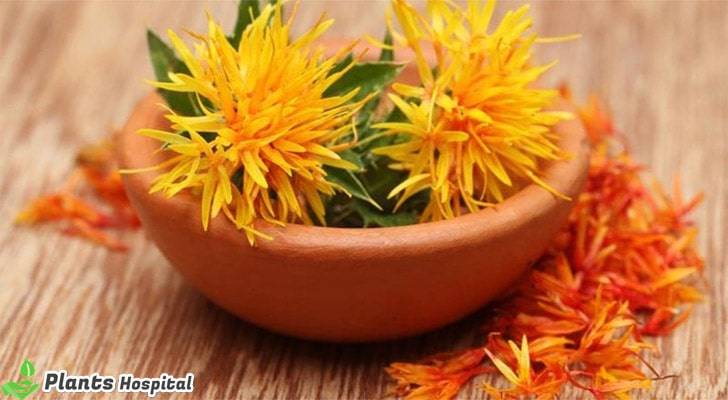 • Relieves PMS Symptoms: Menstruation period can be painful and uncomfortable for women. As safflower oil contains linoleic acid, balances production of prostaglandins to alleviate symptoms such as dramatic hormonal fluctuations during menstruation.
As a result, safflower oil can reduce stiffness of PMS symptoms and also helps manage hormonal supplements, one of dangerous adverse effects.
Also See: Top 7 Effective Herbal Treatments To Regulates Menstrual Cycle
• Strengthens Immune System: Safflower oil, which can help manage prostaglandin function, can also support omega-6 fatty acids. For a more well-protected body, provides normal body layout, such as hormonal balance, as well as strengthening body's immune system processes.
• Good for Upper Respiratory Tract: Different respiratory problems can be treated with safflower oil. These are asthma, colds, cough, sputum (a thick substance secreted by mucous membrane), suffocation cases can be loosened with help of safflower oil.
• Good for Mental Health: It is very useful for mental health problems such as depression and stress. Serotonin levels in body increase production and help to experience normal mental health. In addition, problems such as insomnia can be treated with safflower oil. According to some reports, safflower oil can also be effective for Alzheimer's disease.
• Supports Digestive System: It is used to strengthen digestive system. To strengthen functioning of stomach, you can add a gram of safflower oil in a liter of water and use this potion on a daily basis. It can also be effective for liver or spleen growth.
Editor's Pick:
• Good for Hair Health: Safflower oil, and oleic acid because of scalp and hair that has to cover is quite capable. In this way, hair roots increase circulation in scalp for health hair growth and strength. It also helps keep your hair shiny and strong. Safflower oil thanks to this feature, it is used as an active ingredient in many cosmetic products.
• Good for Skin Health: Safflower oil is considered ideal for improving skin texture due to excess amount of linoleic acid. In particular, works as a serum for opening of skin pores, reducing rashes and pimples. This makes easier for new skin cells to regenerate to make skin look younger.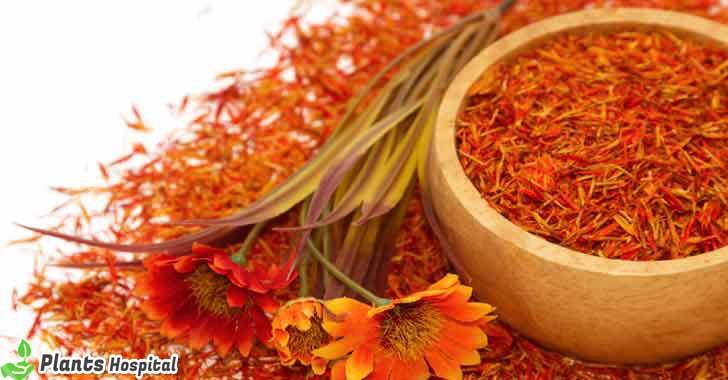 Health Benefits Of Safflower Plant
Safflower is a plant that has been used for many years as herbal treatment. The health benefits of safflower, which is especially well known for menstrual irregularity, are extremely broad.
On the other hand, both antioxidant and anti-bacterial safflower plant has been scientifically proven. Safflower plants are highly effective against killing osteoclasts and other bone diseases.
Facilitates unhealthy menstruation during menstruation period.
Treat constipation because of has a laxative effect.
Helps to balance blood sugar and cholesterol levels.
Helps strengthen immune system.
Especially protective against cancer types such as prostate and breast cancer.
Prevents damage caused by fat accumulation and prevents weight gain. It also contributes to oil tissue to transform into energy and muscle tissue.
In addition, safflower, which is a preservative for muscle and mass, also reduces signs of aging.
Health Benefits of Safflower Seed
• Safflower seeds can be very helpful, especially for young women.
• Safflower seeds provide treatment with aphrodisiac effect. These seeds are recommended to improve sexual weakness.
• These seeds are very useful in alleviating asthma symptoms such as chest congestion and shortness of breath. Safflower seed with expectorant is capable of resolving mucus.
• Safflower seed is known for creating wonders in improving cardiovascular health. Blood pressure and cholesterol were found to be useful as lowering.
• Safflower seed, an excellent source of linoleic acid, is good for skin problems such as eczema caused by linoleic acid deficiency.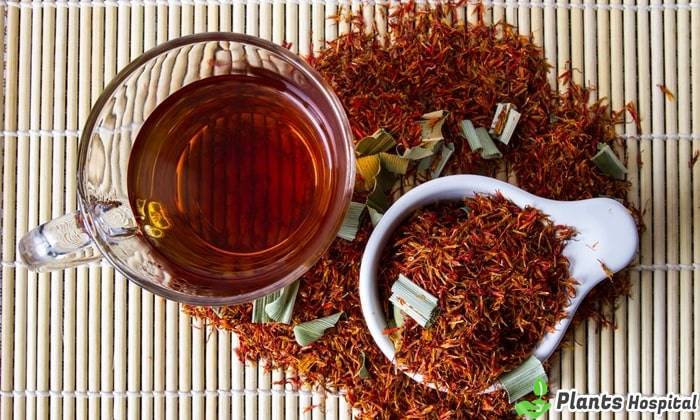 Benefits Of Safflower Tea
Safflower tea is prepared with leaves of herbaceous safflower plant growing worldwide. Safflower tea is a strong but very tasty tea. This herbal tea is known for health benefits.
What to know about safflower tea is as follows:
1. A cup of safflower tea helps to soothe nerves. It can also treat fever, cough and bronchial spasms. Generally, is good to strengthen immunity.
2. Safflower tea helps reduce bad cholesterol. Thus, can be effective in preventing various heart diseases.
3. Safflower tea, which may be helpful in a condition such as bowel disorder, facilitates intestinal motility.
4. Safflower tea can help to improve conditions of cancer patients.
5. Safflower tea can prevent osteoporosis especially in postmenopausal women.
6. Safflower tea can be applied topically. It is used to treat skin disorders such as various bruises, open wounds, or rashes.
Editor's Pick:
Damages Of Safflower Oil
X It is not recommended to use safflower oil before and after any surgical procedure unless doctor receives a recommendation.
X Safflower oil can prevent blood clotting.
X Therefore, may increase risk of bleeding during surgery.
X Anticoagulants such as ibuprofen and non-steroidal anti-inflammatory drugs (NSAIDs), together with safflower oil, may further increase bleeding.
X There is a risk of allergic reactions in people who are allergic to cannabis, chrysanthemums, cortisol, chamomile, and sunflower.
X It is not recommended to be consumed by pregnant women as may cause uterine contractions.
X It may make lower blood pressure worse for people with hypotension.
X Belching, loose stools, nausea, vomiting and diarrhea are reported daily side effects of safflower oil.
X To prevent complications, avoid consuming safflower oil along with other prescription medications.
Plantshospital.Com Recommendations
Studies show that intake of 1 ¾ tablespoons of safflower oil daily can be beneficial to a range of health problems.
Including heart and vascular health.
It has also been shown to be effective for improving Type 2 diabetes, obesity, postmenopausal, good cholesterol (HDL), blood sugar, inflammation and insulin sensitivity.
A cup of safflower is a good choice when drunk daily.
It is very effective with its taste and health benefits.
Recommended Articles: