Chai tea is a slightly sweet, spicy and hot drink. It contains a mixture of black tea, ginger, and other spices. Spices in the tea, use of black or green tea, preparation of water or milk; may vary depending on the region in which it is prepared.
The most popular spices added to the drink; cardamom, cinnamon, coriander seeds, and black pepper seeds.
Is Chai Tea Good For You?
The ginger in the chai tea supports the body's defense system. Relieves menstrual pain. By regulating cinnamon and ginger hormones in chai tea, it creates a positive effect on menstrual pains.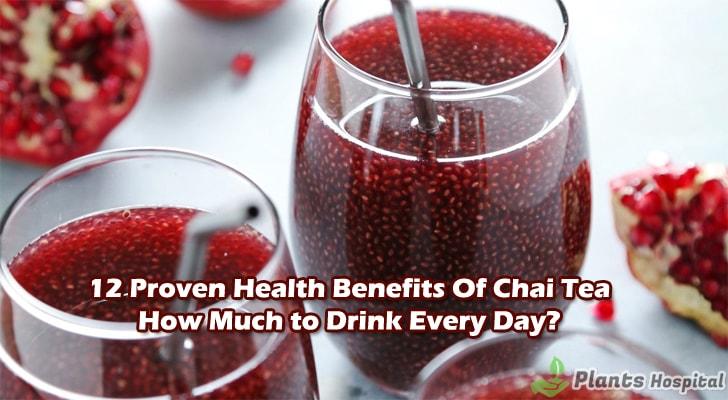 12+ Superb Health Benefits Of Chai Tea
It is Good For Colds And Flu: If you are experiencing the annoying symptoms of flu and colds, it is time to brew a cup of tea.
The main ingredient of chai tea is black tea. Therefore, it not only offers the incredible spice flavor but also offers the powerful benefits of black tea.
Black tea and ginger is a powerful antioxidant. For this reason, it helps to treat sore throat and cold ailments as well as is very supportive of low fever.
It Supports The Digestive System: If you suffer from digestive problems, this tea may be good for you. It can dissolve both antioxidant and excess stomach acid as is a perfect blend of black tea and spices.
For this reason, chai tea is an excellent beverage to help with digestive distress. It has a characteristic flavor due to cardamom, ginger, cinnamon, and pepper. It is also very healthy for digestion.
It is a Powerful Source Of Antioxidants: It has different antioxidants such as polyphenol and catechin. The green tea type of tea contains more catechins in terms of antioxidants than black tea.
These catechins protect cells against damage caused by free radicals. On the other hand, polyphenols in tea have been shown to play a preventive role in the studies on the growth of tumors.
Antioxidants protect the body against damage from ultraviolet rays but also work to increase immune system function.
It Fights Inflammation In The Body: Especially the spices used in the original Indian chai tea are known to have anti-inflammatory properties.
It is also known that ginger, cinnamon and clove spices are beneficial because they already have anti-inflammatory properties for health.
Therefore, if you are fighting inflammation in your body, chai tea can help with its therapeutic properties.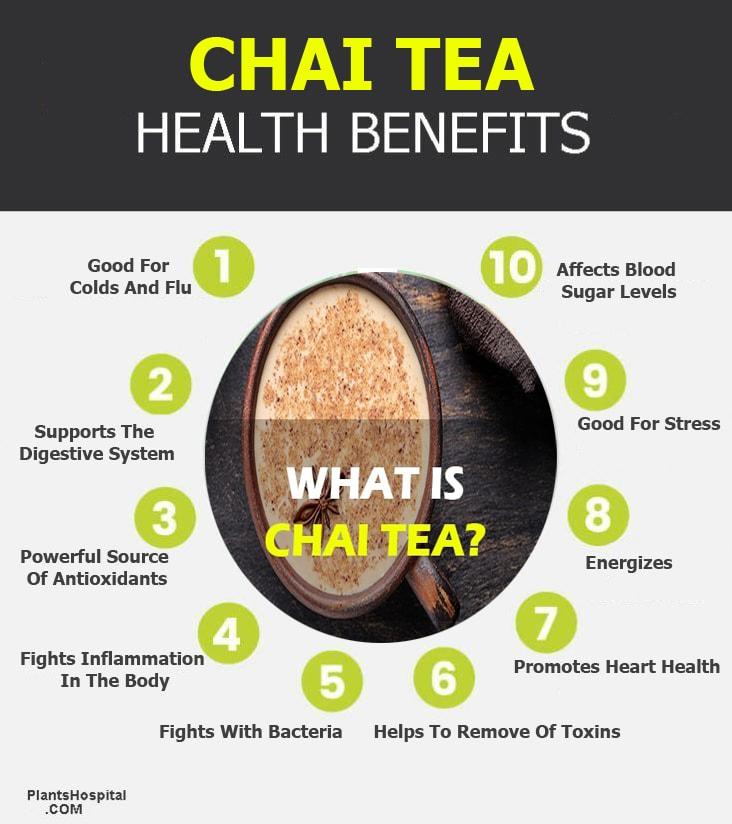 It Fights With Bacteria: By consuming chai tea, you can get rid of all kinds of harmful bacteria in your body. It eliminates bacteria and strengthens the immune system, especially in colds and flu.
You should make sure to remember to add the ginger spice to your chai tea to combat the bacteria. Highly antibacterial chai tea can be effective in the treatment of more than 30 health problems.
It Helps To Remove Of Toxins: Accumulation of toxins in the body is one of the most common issues that cause harm to the body.
The ingredients used in the preparation of chai tea helps to remove toxins easily from the body, clean the skin and improve the general functions of the organs. Black tea is also known to be a great supporter of removing toxins.
It Promotes Heart Health: Most teas are known to promote heart health. It is also a great way to protect the cardiovascular system.
Drinking a cup of chai tea daily helps reduce the risk of cardiovascular diseases, heart attacks, and strokes.
It has been revealed that by improving the circulation of chai tea it can prevent blood clotting, which can reach dangerous levels.
Energizes: A glass of chai tea can always give you the energy you need. Chai tea, which is drunk in the morning, gives you energy like coffee, on the other hand, it does not cause side effects of coffee such as irritability, headache, and sweating.
Although it does not contain much caffeine compared to other teas, chai tea increases its ability to focus throughout the day. Chai tea with honey or sugar will increase your energy.
Read More: 5 Wonderful Homemade Natural Energy Drinks Recipe (Quick & Easy)
Good For Stress: The spices used in a cup of hot chai tea are excellent for anxiety. If you feel physically and mentally exhausted and need immediate relief, you can prepare the chai tea. Moreover, since the caffeine content is low, it helps you sleep early rather than causing sleeplessness at night.
It Affects Blood Sugar Levels: Prepared with cinnamon and black tea, chai tea is very useful for reducing blood sugar, thus preventing diabetes. You can try a healthy chai tea next time instead of an unhealthy latte. If you need dessert, you can add coconut sugar or sweetener to sweeten.
It Helps To Lose Weight: It prepared with black tea and black pepper helps to lose weight by speeding up metabolism. If you are using a diet and exercise program to lose weight, adding chai tea to this program will support you to achieve your goals in a short time.
Promotes Skin Health: This herbal tea has both the cleansing and soothing properties that your skin needs. It helps your digestive system while reducing stress and brings health to the skin in a natural way.
How To Make Chai Tea?
It is generally the amount of milk and sugar that reduces the medicinal properties of chai tea. However, depending on the ingredients you use, the benefits of chai tea will be different.
Ingredients:
1 cup milk,
2 tsp Darjeeling tea,
4 tsp brown sugar,
6 pieces black pepper,
1 piece ginger,
6 pieces cardamom,
6 pieces of fennel seeds,
12 cloves,
1 stick cinnamon,
7 cups water.
How To Make?
Boil the water with 6 spices for 5 minutes.
Turn off heat and leave for 10 minutes, then add Darjeeling tea.
Simmer for another 5 minutes.
Leave it to brew. Serve by adding brown sugar and milk.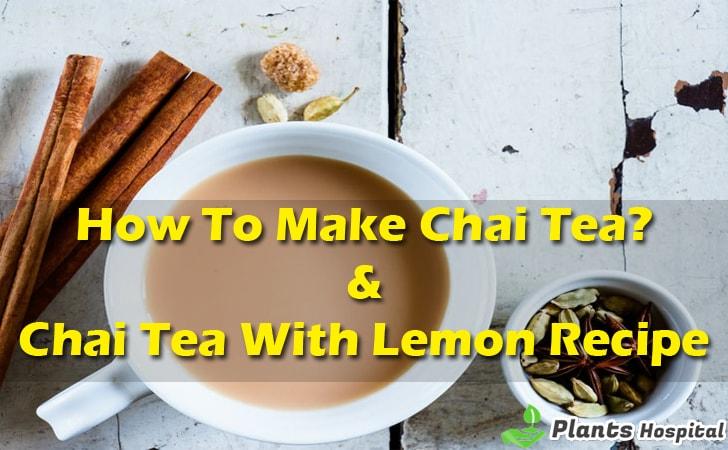 Chai Tea With Lemon Recipe
Ingredients:
1½ cups cold water,
2 heaping teaspoons green tea,
1 cardamom seed,
2 full cloves,
2 saffron threads (optional),
6 chopped almonds,
½ Cup milk,
1 tbsp honey
Mix all the other spices with water and tea in a small saucepan and heat (do not boil). Stir partially and turn down the heat and leave to brew for 10 minutes.
Turn off the heat, add the milk and honey. Add all the ingredients through a strainer to a teapot and serve by putting in cups.
Editor's Pick: 10+ Superb Benefits Of Original Lavender Tea: Uses, Warnings & More
Side Effects
It contains small amounts of caffeine, consuming large amounts can cause undesirable side effects in sensitive people.
If you are feeling tremors, nausea, anxiety, restlessness, and insomnia, you may have consumed too much caffeine.
Eating large amounts of it can cause iron deficiency. According to the National Cancer Institute, the ingredients in tea can prevent the absorption of iron in the digestive system. Iron absorption can also prevent enough benefit from vitamin C sources.
Consumption During Pregnancy And Breastfeeding: Pregnant and lactating women should be careful while consuming chai tea, which has a rather spicy content.
It can cause some side effects. The main herbs you should avoid adding to chai teas during pregnancy are burdock, guarana, parsley, thyme, sage, bearberry, damiana, and comfrey. Avoid adding any of these herbs to your tea. But basically, it is useful to avoid this tea.
Advices
Preparing it is a simple task. But there are some tips needed to make the most of chai teas. The first thing you need to know is that there is no need to add every ingredient to tea.
Add the ingredients of your choice and determine your quantities according to your taste. For example, if you need sugar, you can try other sweeteners, such as vanilla or honey.
It is also necessary to know that there are many kinds of cinnamon. Try each of these and try to make the best decision for yourself.
You can also try white tea or green tea instead of black tea. So the main thing you need to remember is to try different combinations for this tea and choose the best one for you.