In this regard, I will give our valuable readers detailed and scientific explanations about the benefits of Ginger Tea. Ginger tea, which is consumed intensively throughout the world, is used in the treatment of diseases that cause headaches such as colds, stomach diseases, respiratory diseases, and migraines. However, Ginger tea recipe and how to prepare Ginger Tea? We will give detailed information about the topics.
What Are The Benefits Of Ginger Tea?
Ginger and Ginder Tea is a medicinal herb used worldwide as spices. It is defined as the most consumed medicinal plant because of its therapeutic properties. Various scientific research and studies have proven that Ginger is very effective in treating many diseases.
Ginger takes care of your health with its anti-fungal, anti-bacterial antiseptic, antiviral properties against gastric spasm and nausea.
Also, Ginger has rich content in terms of vitamin A-E-B and C, magnesium, phosphorus, potassium, silicon, sodium, iron, zinc, calcium and beta-carotene.
Ginger has a very different taste that is often immediately recognizable. This plant, reminiscent of citrus, has not only a dominant taste but also a dominant aroma.
This root plant, which can be grown in many climates, is very common, especially in Asian cuisine.
This popular and healing tea has quite a lot of benefits in terms of health.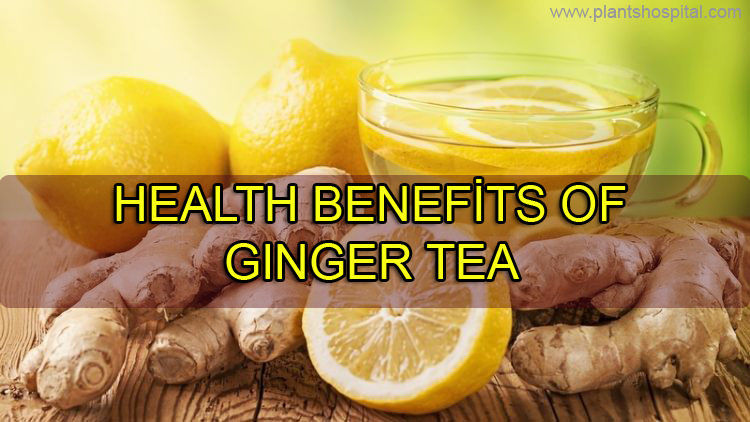 The Best Health Benefits of Ginger Tea
Cancer Benefits of Ginger Tea
It has many benefits for cancer disease. It is important to remember that ovarian cancer is a disease of the ovary. Ginger tea is very effective against cancer cells and this medicinal plant has been proven to fight against cancer cells.
This is good news for people who are receiving cancer treatment as well as those who want to protect against cancer should drink 1-2 glasses of Ginger Tea a day.
Benefits of Ginger Tea Against Bowel Disease
People with intestinal disease will feel relief from the symptoms of the disease after they start to consume ginger.
Another feature of ginger is that it does not matter which method you take to your body; it will be effective in intestinal pains in calming the intestines and digestive system, regardless of whether you use ginger root as a supplement or brewing tea.
Benefits of Ginger against Stomach Disease
One of the biggest features of ginger is its struggle with nausea and stomach pains. Thus, nausea or stomach pain patients can help the stomach by drinking ginger tea at any time.
Many studies on ginger at the University of Maryland also cure the morning sickness, as well as chemotherapy and stomach nausea after surgery are also good.
Relieves Muscle Aches
Some studies have shown that ginger and ginger tea help fight oxidative stress in the brain; it is very good to prevent age-related stress in the brain, as well as other diseases such as Alzheimer's and Parkinson's disease.
Ginger has antioxidants to protect the brain cells from dangers and restore diseased cells, natural and slow aging process to support.
Ginger Opens Appetite
People who are still or have a very slow metabolism or digestive system do not have enough work to get the nutrients they need.
Ginger can help people with a shortage of appetite so they can consume foods that are as healthy as they are delicious. It also balances stomach acid, stomach burning, and digestive enzymes thus regulate hunger signals and digestion.
It Relieves Menstrual Disorders
Drinking this herbal tea is not the only way to benefit from this mixture. If you are complaining about cramps and abdominal pain during your menstrual cycle, let the Ginger tea cool down for 10-15 minutes after thoroughly boiling, and try to dip a clean towel into the hot ginger tea and apply it to the lower abdomen area. The effect of ginger tea reduces pain and helps relax muscles.
Ginger Increases Fertility
Some people believe that drinking ginger tea works as an aphrodisiac for men, thus helping to increase fertility and sperm quality.
Fights Respiratory Problems
It helps in the opening and relaxation of throat and chest congestion caused by cold intolerance. You should drink a cup of hot ginger tea daily for environmental problems and symptoms of allergies.
Increases Blood Circulation
According to another study on ginger, it helps reduce the risk of heart problems by increasing blood circulation through its vitamins, minerals and amino acids.
Ginger minimizes the risk of heart attack and stroke by preventing the formation of fat in arteries.
Ginger Weight Loss
Ginger Tea helps to lose weight in various ways.
If you drink 1 cup of ginger tea in the morning and the afternoon, it can help you lose weight and burn fats that are too high; secondly, it can help you feel full for a long time. Therefore, calorie intake will be less and unwanted weight will be avoided.
Editor's Pick:
Strengthens the Immune System
It has been shown to strengthen the immune system thanks to the intense antioxidants contained in ginger. Especially in winter, a cup of ginger tea is very helpful to your health and protects you from diseases such as colds, flu.
Sometimes the immune system can become extremely active and this can lead to unwanted diseases.
Ginger's contribution to a properly functioning immune system has been proven as a result of scientific research. Ginger also developed the functions of the immune system is emphasized by these studies.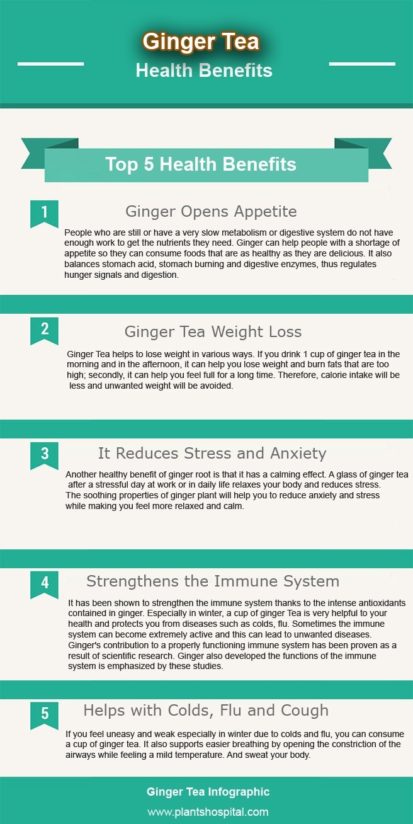 Provides Mouth Cleaning
Ginger is also used in the production of gas drinks. A drink of ginger helps to support the health of the teeth and gums through the anti-fungal and anti-bacterial properties of ginger in the mouth and prevents the smell of the mouth.
Reduces Stress and Anxiety
Another health benefit of ginger root is that it has a calming effect. A glass of ginger tea after a stressful day at work or in daily life relaxes your body and reduces stress.
The soothing properties of ginger plant will help you to reduce anxiety and stress while making you feel more relaxed and calm.
Helps with Colds, Flu, and Cough
If you feel uneasy and weak especially in winter due to colds and flu, you can consume a cup of ginger tea.
It also supports easier breathing by opening the constriction of the airways while feeling a mild temperature. And sweat your body.
Migraines Relieve Headaches
Those suffering from migraines and headaches can relieve the pain by consuming ginger tea. Studies by Oxford University have proven that ginger tea fights inflammation, chronic and persistent headaches.
Ginger Tea Recipe
Ingredients:
• 1 teaspoon grated ginger,
• 2 cups water,
• 1 teaspoon honey,
• Optional: Cinnamon, Echinacea, chamomile, Mint, red pepper.
1. Peel the ginger skins and slice them into thin slices.
2. Put the ginger and the optional herbs in the same container you have selected.
3. Boil the water and pour it over the plants and leave for 10-15 minutes.
4. Add lemon juice and honey. Drink hot or cold according to your preference.
Ginger Tea Recipe for Colds and Flu
• 1 teaspoon ginger pieces,
• Half teaspoon of powder,
• Sugar.
Ginger truffle, cut fine leaves of basil leaves,
Boil 1 cup of water and remove the ginger tea powder and add ginger and basil when it starts to boil, then turn off the fire,
Add the sugar and stir well if desired.
Lemon, Honey, Ginger Tea
Lemon: Lemon contains intense vitamin C that causes the body to fight diseases and strengthen the immune system and reduces inflammation and swelling.
Ginger: if you have a cold or flu, it helps to remove toxins from your body. Ginger also treats damaged or painful stomach, headache, and dizziness, nausea, vomiting.
It is found that a mixture of honey and cinnamon cures most diseases. Reduces the risk of fever. The natural sweetness of honey balances the sourness of ginger and lemon.
Editor's Pick:
Ginger, Lemon And Honey Mixture Recipe
* 2 fresh ginger with finger Size
* Raw honey
* 12 small jars
Slice the lemon and ginger into thin slices and then place them in the jar. Mix the honey with ginger and lemon slowly and wrap it around them.
Fill in honey until it is full, then close the cover. Store in the refrigerator for 1 hour.
Over time, the jelly will begin to get its consistency. Apply to face and leave on for 15 minutes, then rinse with warm water.
Make sure that there are pieces of lemon and ginger in it. Wait for 3-4 minutes and then sip your tea.
What Are The Damages?
As with all teas, you should not consume ginger tea too much. Drinking excessive amounts of ginger tea can cause side effects, but these are very rare. Some of these side effects can cause heartburn, stomach burns, diarrhea, or mouth sores.
There are dosage instructions for the consumption of ginger tea. Ginger tea should be stopped if any of these side effects have been experienced.
Ginger tea intake should be limited and if the person is included in the following groups should be consulted to the doctor, in case of undesirable, you should consult your doctor.
* Pregnancy: Some reports suggest that the risk of thinking about children is increased while offering ginger tea for morning sickness during pregnancy.
* Diabetes: Ginger can lower blood sugar. Depending on this, treatment may need to be adjusted by the doctor.
* Bleeding Disorder: Ginger can also increase the risk of bleeding. If unexpected bleeding occurs, ginger should be stopped and the doctor should be consulted immediately.
* Heart Diseases: Taking a very high dose of ginger can cause heart disease to get worse and heart palpitations. If you are using any of the following drugs, you may need to consult your doctor to take ginger.
1. Ginger consumption should be limited if the drug is used for slow blood clotting. Also, ginger can easily cause bruising or bleeding due to slow blood clotting.
2. Diabetes medications: Taking ginger with diabetes drugs can cause blood sugar to fall too low. If you are planning to consume ginger tea regularly, your doctor may need to adjust your dose again.
* Medicines for High Blood Pressure: If you have high blood pressure, your doctor may prescribe medicines to lower your blood pressure. This can cause irregular heart rhythms.