Ginger, which is one of the first plants that come to mind when comes to the common cold, is a medicinal plant that also enters kitchens as a spice. In some countries is used in making bread, sweets, and cakes due to pleasant aroma.
Ginger, born in Southeast Asia, usually grows in tropical climates. Unfortunately, our country's climate is not suitable for ginger production.
What is Ginger?
This herbal tea, whose Latin name is Zingiber officinale, is a member of the Zingiberaceae family. It can grow up to 120 cm and has a life of one year.
It is a very rich plant in terms of essential oil, fiber, and starch. Roots, which have a high nutritional value, can be used as fresh and dried in powder form. It has been used for medicinal effects in China and India since very ancient times.
It is used as a spice in many products from sauces to salads, breads, and desserts in the kitchen due to pleasant aroma as well as being used in making tea.
In addition, due to medicinal properties, is also frequently used in the making of soaps, lotions, and cures in the field of cosmetics.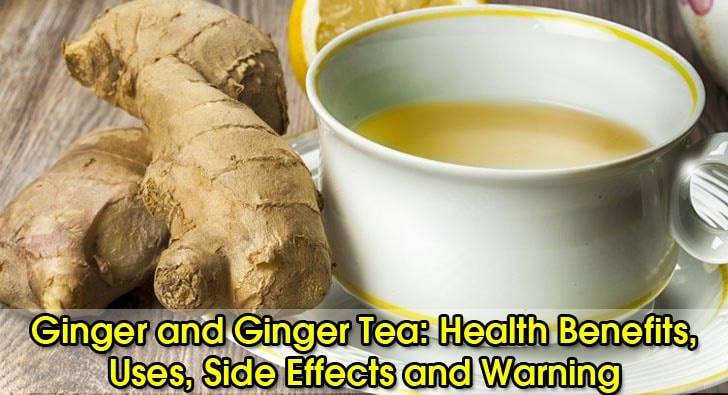 Nutritional Values Of Ginger Tea
It is rich in minerals, especially potassium also contains sodium, magnesium, and calcium. It contains vitamin C, which strengthens immunity, choline, which facilitates fat burning, and folic acid, which contributes to blood structure. In addition, it contains Omega-3 and Omega-6 in content.
10 Proven Health Benefits Of Ginger
The choline substance is very effective in passive fat burning. It, also known as an appetite suppressant, slows your weight gain.
It contains antioxidants that help reduce free radicals and stress levels in the body.
Eliminates many stomach complaints, including nausea and vomiting from chemotherapy.
It acts as a natural painkiller. It is very effective in relieving joint pain, sore throat and stomach pain.
Relieves the digestive system by treating intestinal irritation.
It helps to strengthen the immune system.
Strengthens blood circulation thanks to minerals and vitamins. It allows oxygen to spread throughout the body.
Good for colds and flu. It acts as an expectorant while supporting the body to fight infection.
Reduces menstrual pains in women, regulates menstrual cycle.
Reduces stress and anxiety by regulating the level of hormones in the body.
Ginger Tea Recipes
Flu, Cold Tea With Ginger: Add 2 slices of fresh ginger into a cup of boiled water and boil the mixture for another 1-2 minutes.
Add a teaspoon of linden, 3-4 leaves of sage, a teaspoon of hibiscus, a teaspoon of echinacea and a stick of cinnamon into the tea you have taken from stove, close mouth and leave to infuse for 10 minutes.
It should be consumed hot after draining. Optionally, a teaspoon of honey or a slice of lemon can be flavored. You can consume 2-3 cups of this tea a day, which helps to reduce symptoms of colds.
Tea With Ginger: A cup of water boiled in a coffee pot or teapot of water by adding 2 slices of ginger to boil for another 1-2 minutes. After covering the bottom, add a teaspoon of yellow cantarone, a teaspoon of lavender and 4-5 heads of chamomile.
After brewing and draining for 8-10 minutes, your tea is ready. It should be consumed when it is warm or hot. This body revitalizing tea will also help reduce your stress.
Ginger Tea With Orange: 1 cup of orange ginger tea for 2 slices of ginger, 1 slice of orange, 1 slice of lemon and 1 stick of cinnamon. After boiling the water from the stove, add the ginger, orange, and lemon, and brew for 5 minutes in a covered container, then throw a stick of cinnamon and leave to infuse for another 2 minutes.
You can consume your tea as warm or hot after draining. You can sweeten with a teaspoon of honey or molasses.
Editor's Pick:
How to Brew?
You can brew fresh root ginger by slicing, or you can brew dried and powdered ginger. To brew fresh ginger, you must first wash ginger thoroughly and then peel. 20g (2 normal slices) root ginger will suffice to get 1 cup of tea. Add fresh root ginger to simmering water on the stove and boil for one more minute (1 or 2 minutes), then take from stove and brew in a closed container for 6 to 8 minutes.
If you want to use powdered ginger, half a teaspoon of powdered ginger will suffice for a cup. Because of has a very sharp aroma, increasing amounts may cause the taste of your tea to become bitter. To brew powdered ginger, take simmering water from the stove and add powdered ginger into it. Leave to brew in a closed bowl for 8 to 10 minutes. To sweeten your tea you can add a slice of lemon or 1 teaspoon of honey.
Take care not to brew tea for long periods of time so that is not bitter and does not lose nutritional value.
Side Effects
x Since it can dilute blood is not recommended for those with bleeding disorders.
x It is not recommended for diabetics to use ginger because it can increase insulin levels or lower sugar.
x It is not recommended to use ginger for those with a heart condition. It can worsen heart conditions.
x Breastfeeding women are not advised to drink this tea.
x It is inconvenient for children under 2 years. It is necessary to consult a doctor for the use of children and the elderly over 2 years old.
x Excessive consumption of this herbal tea in pregnant women may increase the risk of miscarriage and may also harm the unborn fetus.
x Even if you do not have any health problems, consuming ginger in very high amounts can cause various health problems in your body. Therefore, more than 3 cups per day can become harmful for each body.