Clove tea is a herbal tea prepared with cloves, thought to have beneficial and healing qualities. Most of the benefits from drinking clove tea are caused by an organic compound known as eugenol and found in the clove.
Clove tea can be used to deal with a few minor digestive complaints, such as diarrhea and gas. Also, it has germ-killing, anti-fungal and analgesic properties.
It can also be used as a hand cleaner when used topically, or you can even shower internally with clove water.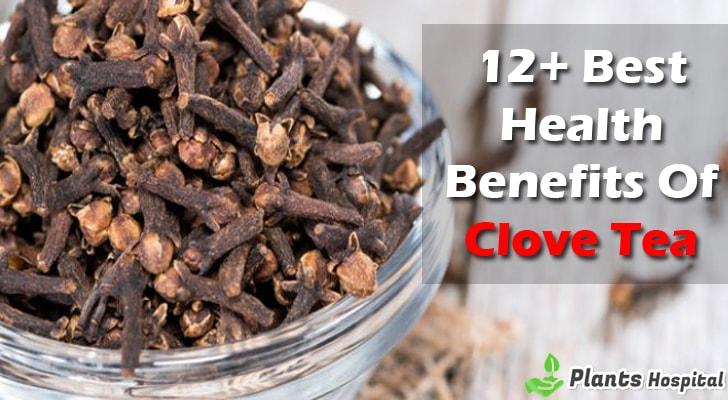 What Are The Health Benefİts Of Clove Tea?
Clove, which is generally used in dishes and desserts, is quite aromatic and delicious. It is harvested from trees belonging to the myrtle family and harvested in Indonesia, India, Sri Lanka, and Pakistan regions.
While these dried buds are ideal for cooking, they are also traditionally used in the medical world. However, there are many health benefits when consumed as a tea. Let's take a look at these benefits together.
Is Clove Tea Good For Headaches?
Clove tea, which has a strong aroma, relieves headaches in a short time. Since it has a soothing effect on the mind and body, it helps relieve pain.
For severe headaches caused by inflammatory diseases, you can drink and drip 3 drops of clove oil in a tea glass.
Is Clove Tea Good for Sore Throat?
Just a teaspoon of cloves contains the appropriate amount of manganese, fiber and vitamins C and K. Chewing cloves can ease sore throats and even help treat colds and coughs.
Is Clove Tea Good For Flu?
Cloves are good for the flu, also protect against viruses. The benefits of carnation, which is the chief crown of kitchens, are wondered both by smell and flavor. The clove made in tea is good for colds and protects against viruses.
Is Clove Tea Good For Toothache?
Clove oil, which is good for toothache, has anesthetic and antiseptic properties. Cloves contain a powerful substance called eugenol. There is this ingredient in toothpaste that helps to kill bacteria. If dry cloves are placed in the aching area and are kept waiting, reduces the feeling of pain by numbing that area.
Can Drinking Clove Tea Cause Miscarriage?
Especially pregnant women should consult a specialist before drinking this tea. Excessive consumption of clove tea can cause digestive problems, novelties, excessive weight loss, problems such as fever, chills and difficulty breathing.
Does Clove Tea Prevent With Diarrhea?
Dried cloves have a wonderful counter-effect against sudden diarrhea. It cuts diarrhea like a knife. If you have diarrhea, you can apply a clove cure for a few days without hesitation. Eliminates diarrhea-related abdominal pain and intestinal motility in a short time (several hours after application.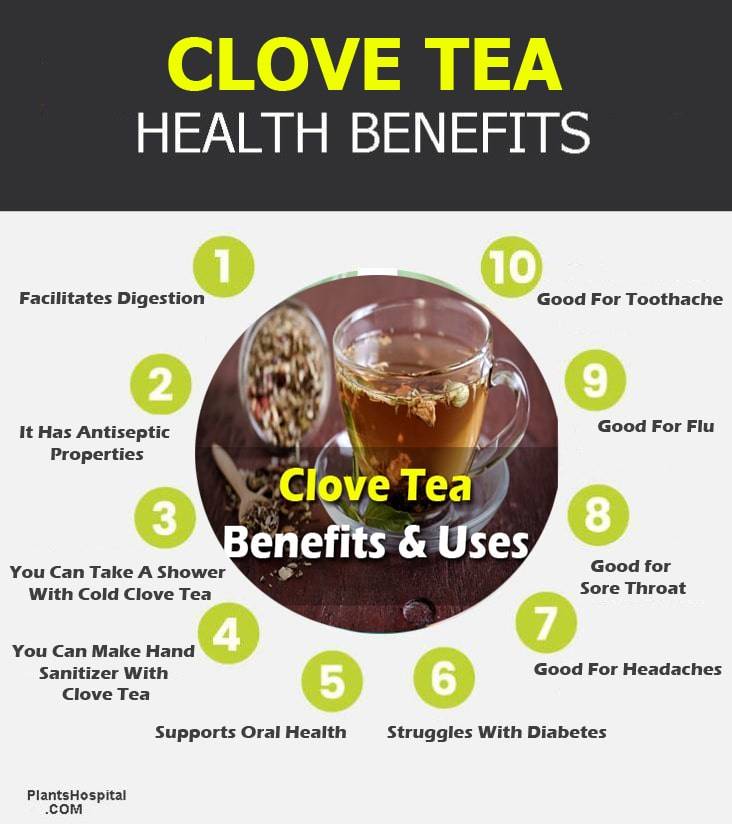 Facilitates Digestion
The main benefit that can be obtained from it is the ability to assist digestion. Eating a cup of clove tea immediately after eating a spicy or constipated meal will relieve feelings of indigestion and even discomfort, and can also help clear stomach.
The degassing qualities in tea cause bloating to decrease. Consuming this tea can also reduce stomach cramps, a side effect of swelling.
It Has Antiseptic Properties
It also offers several antiseptic properties. Consumption of clove tea can help avoid bacterial infections and also improve dental hygiene by reducing bacteria within the mouth.
Essential oils found in this tea help clean the body and can also be used regionally to heal wounds that occur on the skin.
You can disinfect wounds caused by bacterial infections by applying a few drops of cold clove tea on your skin or ensure that the cuts do not get infected.
You Can Take A Shower With Cold Clove Tea
Women who complain of vaginal yeast infections, especially their entire body and genitals can be rinsed with chilled this tea.
You will use tea brewed and diluted with water for this process. You can use 4 cups of water for 1 cup of clove tea.
You can use clove tea, which you dilute by 1 to 4 percent, as sterilized water. Also, those with a fungal infection in their gut can traditionally use the same mixture as an enema.
You Can Make Hand Sanitizer With Clove Tea
For camping or picnicking, prepare the mixture at the rate I mentioned above and take it with you. You can wash this water by pouring it into your hand.
If you want, you can just rub your hand and leave to dry or you can rinse with normal water after washing your hand with the mixture.
Supports Oral Health
Researchers suggest the consumption of clove tea as a natural method to maintain oral health due to the effect on plaque, gingivitis, and bacteria.
The effectiveness of herbal-containing mouthwash containing cloves, basil, and tea tree oil was compared to a commercially available mouthwash.
Both mouthwashes were effective against plaque and gingivitis. This result shows that this herbal tea can help reduce inflammation and bacteria in the mouth.
Researchers have also found that clove-containing mouthwash is more effective than commercial mouthwashes.
Struggles With Diabetes
A study in mice found that the nigericin content found in clove reduced insulin resistance in mouse novelists. Mouse with diabetes who consumed Nigericin had reduced insulin resistance, glucose tolerance, and insulin secretion.
Another animal study looked at the effect of clove powder on rats with diabetes. They found that rats receiving clove powder had lower blood sugar levels than the control group that did not take clove powder.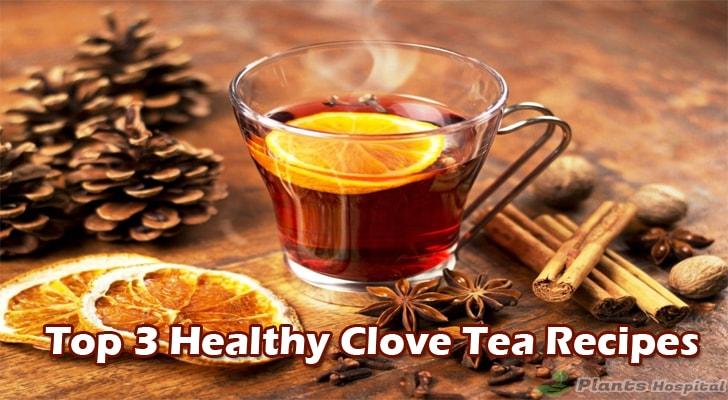 Top 3 Healthy Clove Tea Recipes
Clove Tea with Ginger and Cinnamon
If you want to feel the perfect harmony of ginger, cinnamon, and cloves on your palate, you can try this delicious recipe.
You can also add this triple mixture, which helps speed up metabolism, to your diet program in consultation with your doctor.
For ginger and cinnamon clove tea recipe, boil 5 bud cloves in 2 cups of water and after boiling, add a crust of cinnamon and half a teaspoon of ginger and leave to brew for 10 minutes.
After straining, you can sweeten with a spoonful of honey and drink with pleasure.
Read More: 16 Amazing Health Benefits Of Ginger Tea
Black Tea With Cloves
If you can't stop drinking black tea, you can increase your passion for tea one more time with this recipe.
The clove, which will add a pleasant aroma without spoiling the original taste of black tea, will more than meet your expectations with its exquisite scent.
What you need to do to brew black tea with cloves is very simple. Brew black tea as you always do and toss 4-5 cloves in it. If you want to have a different and delicious tea experience, you can try this recipe.
Read More: All About Turkish Tea – Turkish Black Tea
Clove Tea with Honey and Apple
If you are looking for a recipe that will warm you up and sweeten your palate, especially in cold winter days, you can try honey and apple this herbal tea.
For this recipe, add one apple of your choice and 7-8 cloves into 3 cups of water. Boil over medium heat for 15 minutes and leave to brew for 5-10 minutes.
When you serve, strain and add a teaspoon of honey. If you want, you can increase the aroma of your tea with a slice of lemon.
Read More: 9 Proven Health Benefits Of Honeybush Tea (Cyclopia Subternata)