Cananga odorata, widely known as ylang ylang essential oil is a fastgrowing, medium-sized tree indigenous to lowland and lower montane tropical forests of the Indo-Pacific region.
Ylang ylang essential oil is cultivated throughout the tropics and subtropics in gardens for its exceptionally fragrant flowers, from which are distilled essential oils used in perfumes, soaps, shampoos, and other cosmetic products, foods, and aromatherapy.
The Comoro Islands and Madagascar are major producers of ylang ylang oil, accounting for an estimated 80 % of global production.
In addition to its value as an ornamental and source of ylang-ylang essential oil, it is valued in its Indo-pacific range for its medicinal uses, the essential oil, and other parts of the plant being used in traditional systems of medicine to treat a variety of ailments.
What is Ylang Ylang Oil?
Scientific Name: Cananga odorata
Ylang ylang essential oil is derived from the fresh flowers of the ylang-ylang tree(Cananga Odorata), which is usually found in the rainforests of Asian and South Pacific Islands like Indonesia, Philippines, Java, Sumatra, Comoro, and Polynesia.
There are several grades of ylang ylang essential oil sold in the market, but ylang ylang extra oil is considered to be the best among other varieties.
Because it is the product of the first extraction, ylang-ylang extra oil has the highest amount of esters and the sweetest scent.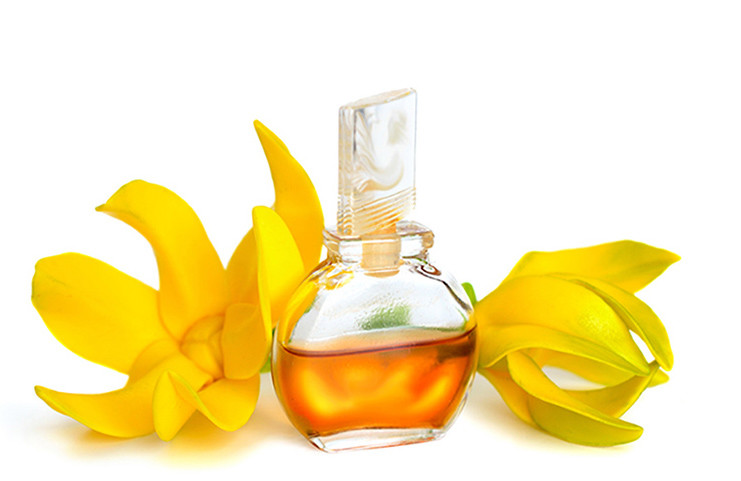 9 Amazing Health Benefits Of Ylang Ylang Essential Oil
The tree is widely planted as an ornamental in home gardens, especially in many islands of the Pacific. In Malaysia, it is used as a street tree.
In agroforestry systems in the Pacific island of Pohnpei, it is used as an understory trellis tree for yam (Dioscorea spp.). The tree is valued chiefly for its flowers, which yield ylang ylang oil which is used in the manufacture of numerous beauty products such as perfumes, soaps, shampoos, and hair oils.
One of the principal products is Macassar oil, coconut oil scented with ylang-ylang, which has a good though the restricted market in many parts of the world. The flowers themselves are valued in Borneo and elsewhere for their scent, the dried flowers being sold in markets, and are worn in women's hair and laid between cloth to impart an agreeable scent.
In Samoa and other Pacific islands, the flowers are used to make garlands and headdresses, and their beautiful fragrance is celebrated in songs.
The wood of this tree is non-durable and subject to termite attack and has very limited value for timber. It is some times used for wooden shoes, boxes and crates, tool handles, net-floats, and lathe turnings.
Being very resonant, it is good for making drums. In Samoa, the Northern Mariana Islands and elsewhere in the Pacific, the wood is reportedly used for making canoes, furniture (in the Cook Islands) and for general construction (in Tonga and Samoa). Coarse ropes can be made from the fibrous bark.
The most common and recommended method is steam distillation, although distillation in water is sometimes used, with mixed results.
The first part of the distillate recovered consists mainly of the more readily volatile and oxygenated ester constituents and traces of terpenes. This represents 50−60 % of the total oil recovered and is the best quality ylang ylang oil.
Prolonged distillation yields mainly sesquiterpenes and a product of lower quality known commercially as Cananga oil. Volatile oil yields by steam distillation usually average 1−2 kg per 100 kg of flowers, depending on the quality of the flowers, their handling, and the distillation technology used.
The quality of the natural oil produced is somewhat variable, and synthetic versions are currently produced which have, to some extent, substituted for natural ylang ylang oil in the French perfume industry.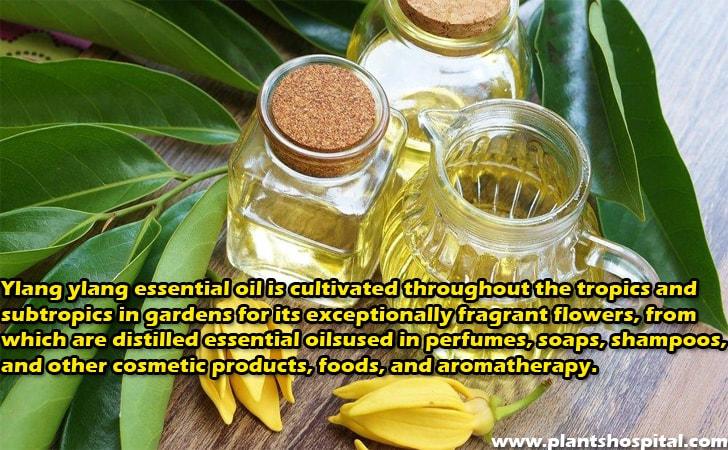 Medicinal Uses of Ylang Ylang Oil
In Tonga and Samoa, the bark is used to treat stomach ailments and as a laxative. In Java, the fresh flowers are pounded into a paste for use in the treatment of asthma, and the dried flowers are reportedly used for treating malaria. Many parts of the tree are used in traditional medicine in India.
The fresh flowers are reportedly prescribed as a carminative and in the treatment of asthma and an infusion of the flowers is used after bathing or rubbed on the skin to prevent skin itching.
Also in India, the essential oils from the flowers are used as an external application for the treatment of headache, ophthalmia, and gout.
The leaves are considered useful for treating diarrhea in infants and rubbed on the skin to relieve itching and boils. The fruits and seeds are used for treating fevers. The bark, rich in alkaloids, is sometimes given as a decoction for treatment of rheumatism, phlegm, ophthalmia, ulcers, fevers, and to improve complexion.
Ylang Ylang essential oil is also used in aromatherapy and is thought to be beneficial for treating depression, distressed breathing, high blood pressure, anxiety, and as an aphrodisiac.
Ylang Ylang oil and Cananga oil are sometimes added as a flavoring in beverages and foods and are used extensively in hair oils and other cosmetic products.
Ylang-ylang pure essential oil aids issues of palpitations, anxiety, depression, and high blood pressure. It is also a proven sedative and tonic.
The Flower of Flowers tree is notorious for their relaxing properties, which promote a soothing, sleep.
Ylang ylang essential oil has also been used as an aphrodisiac. This oil works hand in hand with our spirit to amplify the senses and develop our internal femininity and creativity.
The mind and this flower oil work as one to revitalize energy and feelings of joy. The body also collaborates with ylang-ylang oil increasing liveliness, easing PMS, cleansing facial skin, and easing stress regarding blood pressure.
Ylang ylang is also found in perfumery. Ylang Ylang essential oil said to aid the cardiovascular, endocrine, and hormonal systems.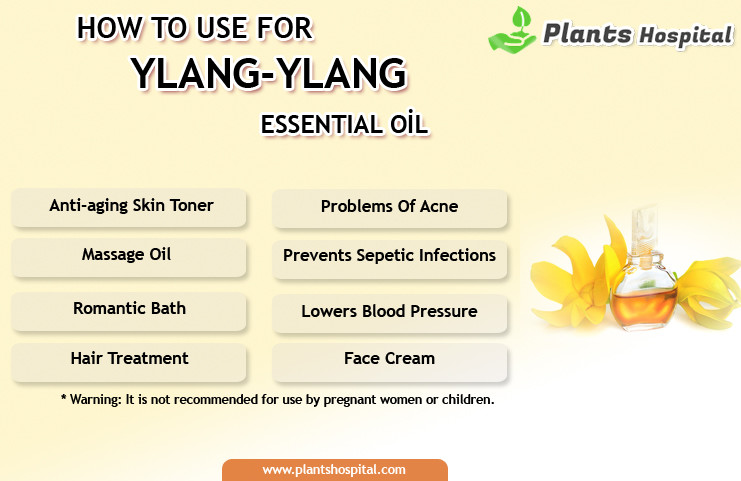 Inspiration for Using Ylang Ylang Oil
Massage Oil
Mix two to three drops with coconut, grape seed, or olive oil.
Romantic Bath
Mix 10 drops each Ylang Ylang and Geranium essential oils along with, 15 drops Grapefruit essential oil into 2 cups of Epsom salt. Pour under running hot water. Dissolve the salt completely before bathing. Soak 15-30 minutes.
Anti-aging Skin Toner
Add five drops into chamomile tea, allow it to cool and apply to your skin.
Read More: What Is Aging? Aging Process Definition
Hair Treatment
Heat three tablespoons of olive oil and mix with five drops of Ylang Ylang oil. Apply the mixture to your hair and scalp.
Wrap a towel around your head and keep it on for 30 minutes.
The warm atmosphere created inside the towel will help the oil penetrate the hair follicles on your scalp.
This treatment boosts hair growth and development and reduces hair fall. It is also perfect for damage control.
The treatment must be repeated every week for the best results.
Ylang Ylang Essential Oil is an effective natural treatment to reduce hair fall caused by stress and alopecia.
Its usage dates back to the Victorian Era when the Victorians added Ylang Ylang to their Macassar hair oil. When it is massaged into the hair follicles, it stimulates hair growth. It is a natural way to treat thinning hair.
Read More: Wonderful Ways to Prevent Hair Loss in Women
Side Effects
May cause sensitivity, nausea, and headaches if used in excessive amounts.
It is not recommended for use by pregnant women or children.
Avoid its use if you have low blood pressure.
Avoid using on inflamed skin or skin affected by dermatitis.
Suggestions & Blends
To receive feelings of joy, mix ylang-ylang, benzoin, and tangerine, and apply it to tense areas.
To increase liveliness, and soften PMS symptoms, bathe with 2 drops ylang ylang and 4 drops of coriander.
To normalize the skin, apply 2 drops of ylang-ylang, 4 drops Australian sandalwood and 4 drops grapefruit in 4 tsp skin mousse.
To ease stress (related to high blood pressure), mix ylang ylang lavender and sweet orange and apply it to areas where you store tension.
Use ylang ylang as a DIY facial cleanser, a floral perfume, try adding to coconut oil for a deep hair conditioner, as a massage oil, as a sedative in the form of aromatherapy and even as an aphrodisiac!
Some of the lesser-known suggestions even encourage use as a source of healing from emotional trauma or to apply the oil over the area of the heart for promoting emotional balance.
Use ylang ylang in a bath salt, by adding approximately ten drops of ylang-ylang essential oil with 10 drops of geranium essential oil along with 15 drops of grapefruit essential oils combined with two cups of Epsom salt, pouring under hot water and allowing to dissolve completely.