How to Grow Parsley at Home?
When growing parsley, you have to pay attention to some issues. How should be the soil in which we grow parsley at home? How to plant parsley in the soil? How does parsley-like light?
4 Best Tips for Growing Parsley at Home
1) The pot you will use is deep, parsley is important for the development of more comfortable.
2) Parsley doesn't like much water, but it can't be dehydrated. Giving them too much water will cause them to shrink and squat and their leaves to turn yellow.
3) After each harvest, water the soil in the pot to maintain productivity.
4) Weeds ending in flower pots cause a decrease in nutritional value in the soil. So tear off these weeds as you notice them.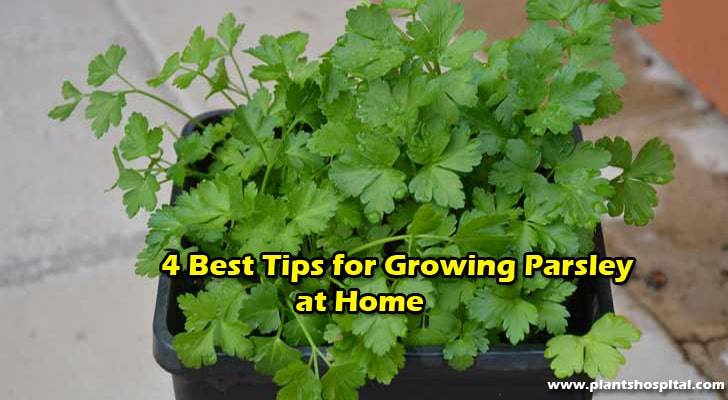 How To Prepare Parsley Seeds?
Seeds have a specific sprouting process. You can skip this step if you want, but if you want to speed up sprouting inside a soapy water in a mild heat for 1 hour or so. This method will increase the rate of sprouting by weakening the seed shells.
Then wash the seeds thoroughly and let them sit overnight in lightly hot water without soap again. Then leave your seeds to dry on a greaseproof paper. Now your seeds are ready to be planted.
When Should I Plant Parsley?
Parsley doesn't like the cold. So the seeds should be planted after the cold has passed. March or April is usually an appropriate period.
How To Planted Parsley In The Soil?
You can choose the size of your pot and the area you will plant. However, if you give the seeds 7 cm away from each other, it will provide the most suitable environment for the growth and the necessary nutrients from the soil. Furthermore, the excavated area does not need to be too deep. Just throw a little ground(1-1,5 cm) on it will be enough.
After you get your nutrient-rich soil mixture, pot and seeds, get to work immediately and first fill the pot with the soil you have prepared. During this time, make sure the soil is moist and place without too much compaction. It will be enough to leave 5-6 cm of free space at the top of the flowerpot.
Then sprinkle your parsley seeds randomly over the soil in the pot. Make sure it is spread all over the flowerpot whenever possible. Then cover the seeds with moist soil that will not exceed 1-1.5 cm and press them lightly.
If you think the soil is not moist enough, moisten the soil with a spray bottle in the form of a spray to sprout the seeds more quickly. That's it, your planting process is already completed!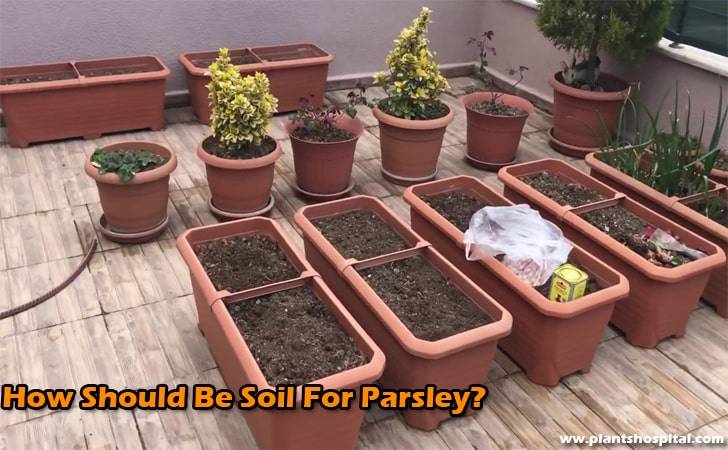 How Should Be Soil For Parsley?
Parsley is best grown in loose soil. The soil must get air. The second point to be considered is the nutrient and PH value of soil. PH is preferred to be around 6-7. You can create half of it from peat soil and the other half from nourished soil.
Thus, we will have a loose, breathable and necessary soil mixture. The delicate roots of parsley will release themselves more easily in such loose soil.
How Does Like Light Parsley?
Just put your pot in a place that gets the morning sun.
How To Watering Parsley?
We recommend watering 2 times a week during the growth phase. It can also be watered 3 or 4 times a week in very hot temperatures. It is enough to keep the soil slightly moist.
Read More: Dehydration: 6 Things that can Cause Dehydration (Watering Plant)
How to Harvest Parsley?
Your parsley can be harvest when it takes out 3 leaves on a branch. While harvest, not only the leaves, but also the stem will revive your parsley and you will be able to take advantage of the beneficial vitamins found in the parsley stem.
Yes, parsley is a miraculous plant, quite simple to grow, whether it's in the garden or on your balcony or in a spot of light in your home. With a small pot, some soil, and parsley seeds, you can also use this plant by growing it in your home.