Although the herbal teas in question are not widely known in our country, as benefits are understood, let's recognize honeybush tea, which is one of the teas consumed more frequently every day.
What is Honeybush Tea (Cyclopia Subternata)?
In fact, for those who want to drink herbal tea, Honeybush herb is one of the most useful preferences. While huge, yellow or crimson flowers of honeybush plant are fascinating, their health benefits make very valuable.
Honeybush is a healthy alternative to tea and coffee as a fruity herbal tea, which stimulates appetite, protects from infections, strengthens the immune system, promotes heart and vascular health.
Honeybush plants, grown in the eastern regions of South Africa, is mixed from time to time as belonging to the same plant family as rooibos.
It tastes just like honey and leaves have a sweet smell. Honeybush, which is both a delicious and useful herbal tea alternative, is also called "red tea" in some localities. It is not caffeine that distinguishes this tea from most of the many beneficial herbal teas available on the market.
Because more limited consumption of caffeine-containing teas is recommended, even pregnancy, breastfeeding, many people during the period of fighting some diseases, caffeine-containing teas are not recommended by the doctor.
Also, while many other herbal teas have a bitter taste after brewing, Honeybush tea retains the same sweet flavor for a long time and does not get bitter.
Honeybush tea, which has a honey and woody texture, certainly deserves a reputation for having no flavoring agent, no added flavoring product.
Read: 10 Amazing Benefits Of Honey And Cinnamon: Is Good For Weight Loss?
How to Make Honeybush Tea?
Add 1 teaspoon of Honeybush grass into a freshly boiled water glass and allow it to infuse for 5 – 6 minutes. After that, you can drink by added lukewarm milk or without milk.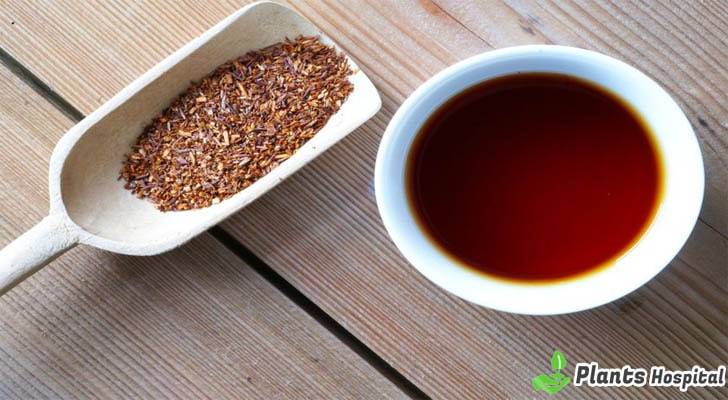 What are the Health Benefits Of Honeybush Tea?
1. Strengthens immune System
This valuable plant; is full of various antioxidants such as phenolic compounds that are very important for the health of the immune system.
This helps to protect the immune system from oxidative stress during regular consumption. Phenolic compounds strengthen the immune system by helping the body defend against infections. This allows you to avoid the flu, colds and other diseases before they occur.
2. Protects Against Inflammatory Diseases
If there is an inflammatory condition in the body, provides the proper basis for the onset of many diseases. For this reason, is necessary to take some precautions to prevent inflammatory diseases and prevent inflammation in the body.
In this context, the phenolic compound found inside honeybush tea helps prevent chronic hot diseases, while also reducing inflammation.
Phenolic compounds according to a study; helps regulate the body's inflammatory response in inflammatory bowel disease, which occurs in inflammatory bowel cells. This means it helps treat inflammatory diseases such as Crohn's disease or IBD.
3. It's Rich in Antioxidants
It contains plenty of essential nutrients and antioxidants that are essential for the body. These include various vitamins, minerals such as iron, calcium, potassium, sodium, and copper.
While antioxidants in honeybush tea reduce the rate of fat in the bloodstream, it also helps to fight cancer and restore health.
4. Accelerates Metabolism
With vitamins and minerals contains, this herbal tea increases the working speed of the metabolism and helps to reduce the rate of fat in the bloodstream.
5. Prevent Cancer
Honeybush tea, because of is a full store of antioxidants, can defend the body against harmful free radicals that cause cancer, increasing the strength of the body.
Research has shown that honeybush tea has properties that prevent tumor growth. According to the research, in mice with tumors that received honeybush extract, tumor growth decreased by 90% and was also prevented the formation of mutagenesis types in the liver.
6. Protects the Health of Respiratory Tract
Almost everyone experiences breathing problems, even once a year, respiratory diseases can be prevented by consuming honeybush tea.
Experts say honeybush tea is effective in all respiratory problems and especially in reducing asthma symptoms. In the same context, honeybush tea can be used for the prevention and treatment of seasonal or infectious cough and colds and related allergic reactions.
It is known to help eliminate germs that cause diseases due to its antibacterial and antiviral properties.
This herbal tea also improves the body's immune system while fighting against flu, colds, and allergies.
Editor's Pick:
7. Cures Stomach Diseases
It is a herbal tea that supports all body health. In this context, honeybush tea can be used for both prevention and natural treatment of stomach pains, cramps, pain and ailments in the digestive system.
It is also used safely as it does not have any side effects in digestive problems such as constipation, nausea and bloating.
8. Helps to Cure Menopausal Problems
In women, many physical and mental problems can occur during the menopause, which is the end of reproductive age.
Depression, stress, osteoporosis, anxiety, mood changes, hot flashes, and panic disorders are among the problems experienced by women entering menopause in general.
To alleviate these, it may be necessary to get both medical and natural and herbal help. According to experts, due to Phyto-estrogenic properties, honeybush tea acts like estrogen in the body during menopause.
The symptoms of menopause can be alleviated by phytoestrogenic activity in honeybush tea. Phytogenic properties of honeybush tea help to protect against heart disease, hormone cancers, and osteoporosis.
9. Provides Relaxation Whole Body
It can be consumed for spiritual relaxation with its waxy fragrance and pleasant taste. This tea, especially consumed in the evening, is known to improve sleep quality.
This herbal tea, which is safe when taken at the appropriate dose for people of all ages over the age of 12, is perfect for relaxing after a stressful day.
It is recommended to consume one cup of warm honeybush tea daily to relax both spiritually and physically, to relax muscles and to eliminate spasms.
Editor's Pick:
How to Make a Relaxing and Healing Honeybush Tea?
It can be prepared and consumed both cold and warm with ice. With this tea stress will decrease, the palates will remain sweet and rich in flavor.
For This teas; 3 parts honeybush grass, optionally 1 part Rooibos, 1 part lavender, 1 part Oatstraw, half a lemon or orange juice is required.
For tea; all of these ingredients are put together in a coffee pot or teapot. 3 glasses of water are added and boiled for 7-8 minutes and then filtered. It is consumed in a warm or icy form.