Strawberries Growing Techniques
• Growing Strawberries in the Field: Strawberries, a plant that can withstand temperatures down to -10 degrees, loves sandy-loamy and light soils. It is difficult to grow strawberries in soils with a high lime rate. Strawberries planting has 4 planting times: Spring, winter, summer, and autumn. Strawberries should be planted in cool and humid weather.
Strawberry buried in the soil with the root up to 6-8 centimeters, leaves are planted to come over the soil. State support is given to increase strawberries cultivation in our country. Water pipes, mulch, seedlings, and irrigation supplies are among the state's support for strawberry cultivation.
• Growing Strawberries in the Greenhouse: Greenhouse growing, usually made with heated plastic or glass low tunnels, is a method with high expenses. It is a method applied to marshy, stony, and rocky areas where it is not possible to grow strawberries with bag culture.
If strawberry growing is carried out in the greenhouse, a second tunnel is applied for heating and sprinkling over the greenhouse to prevent the strawberries from being damaged by the cold. growing strawberries is a laborious method.
• Growing Strawberries at Home: Pots and baskets are used for growing strawberry at home. The most suitable strawberry variety for growing strawberries on the balcony is humming-emerald, which is heat-resistant and has short leaves.
Straws with long shoots called Toscana are suitable for hanging flower pots. For the hanging baskets, ivy strawberries cultivation is a suitable method. This strawberries variety, which is preferred due to its thick stems and strong structure, can reach up to 2 meters in suitable environments and with adequate watering.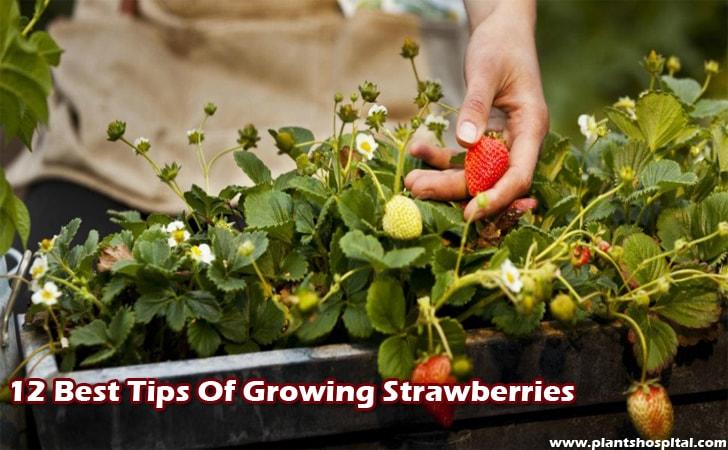 Growing and Caring for Strawberries in Pots
One of the most popular and most consumed fruits worldwide, strawberries is also the most widely traded fruit variety. The unique aroma and adults alike with the smell of fruit consumed appreciated by both kids and grown widely in the Mediterranean and the Aegean region of Turkey.
It is recommended that the strawberries, which are a sensitive and caring type of fruit, be consumed fresh and stored in the refrigerator. Strawberries, whose homeland is America, is one of the most widely grown fruits with an annual production of 5 million tons worldwide.
Strawberries, which makes a name for itself with benefits as well as flavor, create positive effects on the body when consumed regularly. Because of fruit with high sugar content, it has a bacterial holding structure.
Watch Video: 12 Best Tips Of Growing Strawberries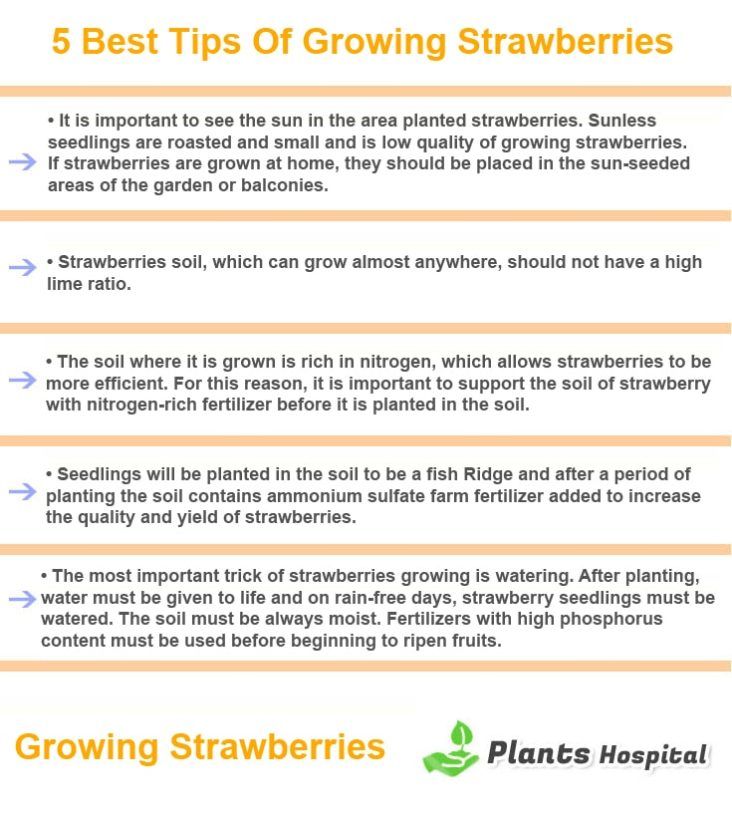 5 Best Tips Of Growing Strawberries
• Strawberries soil, which can grow almost anywhere, should not have a high lime ratio.
• It is important to see the sun in the area planted strawberries. Sunless seedlings are roasted and small and is low quality of growing strawberries. If strawberries are grown at home, they should be placed in the sun-seeded areas of the garden or balconies.
• The soil where it is grown is rich in nitrogen, which allows strawberries to be more efficient. For this reason, it is important to support the soil of strawberry with nitrogen-rich fertilizer before it is planted in the soil.
• Seedlings will be planted in the soil to be a fish Ridge and after a period of planting the soil contains ammonium sulfate farm fertilizer added to increase the quality and yield of strawberries.
• The most important trick of strawberries growing is watering. After planting, water must be given to life and on rain-free days, strawberry seedlings must be watered.
The soil must be always moist. Fertilizers with high phosphorus content must be used before beginning to ripen fruits.
How To Care For Strawberries?
One of the most important points in growing strawberries is the prevention of the output of weeds from the soil. When the strawberries over watered, occur diseases such as fungi and jaundice in the plant. After the planting process, is performed irrigation process called living water.
Strawberry seedlings planted in summer planting should be watered 3 times a day for 15 days. After this period, the strawberries should not be over-watered. Over-watered strawberries can cause diseases such as jaundice. The drip watered method is the most ideal method used in growing strawberries.
Fertilization is also an important issue in strawberry growing. Strawberries soil is fertilized every month. Another important point in strawberries care is the need to clean arms on strawberry immediately. Uncleaned arms reduce strawberry productivity.
What Are The Benefits Of Strawberries?
• Strawberries containing acid and cox enzymes have anti-inflammatory effects. The fruit, which prevents the formation of inflammation in wounds, increases the rate of dopamine in the body.
• Plays an important role in the development of brain function and is protective against Alzheimer's disease.
• Contains antioxidant components of the body's immune system to strengthen the fight against disease supports.
• It prevents the formation of cancer cells and ensures the destruction of the formed cells.
• Strawberries, which help to remove toxins and excess water from the body, minimize the risk of a heart attack thanks to phenol compounds.
• Strawberries, a fruit rich in manganese and vitamin K, play an important role in the development of bone and teeth.
• Strawberries, which help treat eye diseases seen with age, strengthen retina and cornea.
• Strawberries containing high amounts of vitamin C support the fight against free radicals and prevent skin wrinkles. Skin masks prepared with strawberries help to eliminate acne and repair skin blemishes.
• It is recommended that those with weak and brittle hair should eat strawberries due to their collagen content. For healthy hair, strawberry masks can be prepared to make your hair look more vibrant and brighter.
• Strawberry masks for under-eye bruises and swelling that develop due to extreme fatigue, can create miracles old age and insomnia.