If you want to get rid of cellulite, you may want to know some home treatments consisting of medicinal plants. These natural home treatments will reduce your cellulite.
Hormones, genetic factors, and an unhealthy lifestyle are the main causes of cellulite.
Cellulite is irregular fat cells that settle under the skin. Although it is most commonly seen in the thigh area, it can also be seen in the legs, buttocks, and abdomen. If you have cellulite, you will find some useful tips in this article.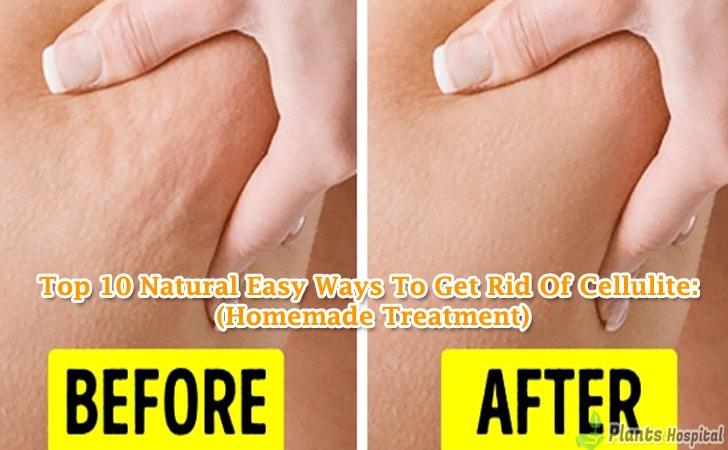 How Can I Get Rid Of Cellulite Fast?
1. Juniper Oil
Juniper oil is good for your muscles and skin, so it also reduces cellulite. Juniper oil is at the top of the list to help you fight cellulite. You can use this effective oil to reduce cellulite on the legs and hips.
Remember, when you begin to accumulate toxins fatty tissues in your body, it's time to detox. At this point, juniper oil plays an important role.
Ingredients:
10 drops juniper oil.
1/4 cup extra virgin olive oil.
Preparation:
First, dilute the juniper oil by mixing it with extra virgin olive oil.
Massage the affected area for at least 10 minutes using this mixture.
To benefit the most of this mixture, repeat this process every day.
2. Cayenne Pepper To Eliminate Cellulite
Hot cayenne pepper is a fat burner. It also increases body temperature, improves blood circulation and your metabolism in general.
As if these weren't enough, this hot pepper is a great dead cell remover that regenerates skin cells. Regular consumption of cayenne pepper can help remove toxins from the body. This plant will help you remove cellulite.
Ingredients:
2 teaspoons of cayenne pepper (or hot red pepper in powder form),
1 teaspoon of grated ginger,
1 cup of lemon juice,
1 cup of warm water.
Preparation:
Add red pepper powder, grated ginger, and lemon juice into the water, mix well.
Drink this mixture once or twice a day for several months.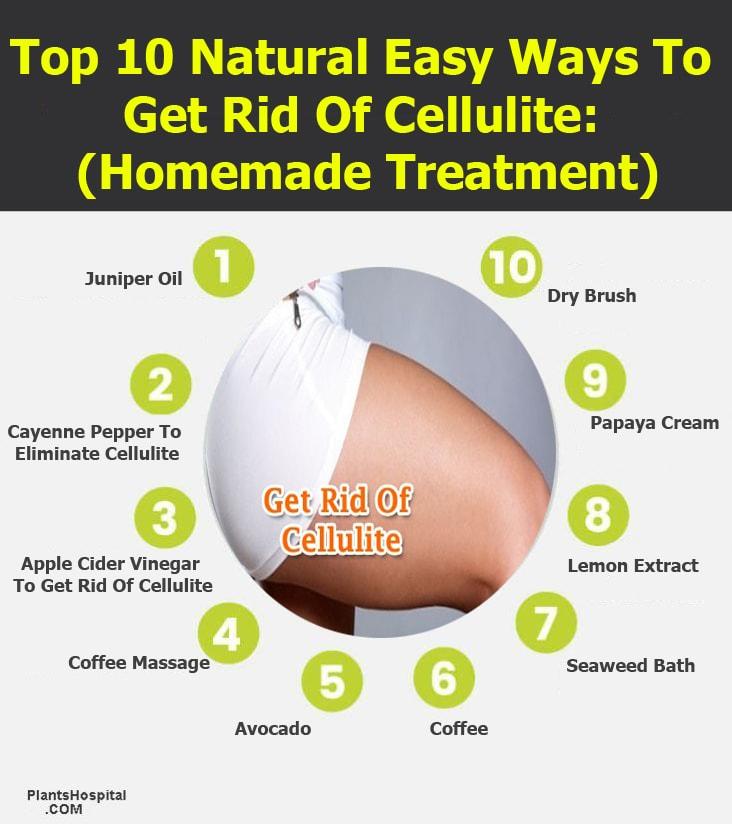 3. Apple Cider Vinegar To Get Rid Of Cellulite
Applying apple cider vinegar directly to cellulite areas will significantly reduce the amount of cellulite in your body.
Ingredients:
Apple cider vinegar,
Water,
100% pure honey.
Preparation:
Mix the apple cider vinegar and water in a ratio of 1 to 2 (for example, mix a glass of water with half a glass of apple cider vinegar).
Add a little honey to this mixture and stir well again.
Then apply this mixture to all affected areas and then rinse lightly with warm water.
Wrap the area where you applied the mixture with a towel and let it sit for at least an hour.
Rinse again after the time has elapsed.
Apple cider vinegar is a great solution to reduce cellulite and are also amazing benefits provide of honey.
Read More: Apple Cider Vinegar: Can Apple Cider Vinegar Help You Lose Belly Fat?
4. Coffee Massage
Coffee provides your skin clear of dead cells. Also, you can use coffee to reduce your cellulite.
What causes this is the tightening effect of caffeine. In general, massaging and purifying the skin from dead cells provides stimulation of blood flow.
Ingredients:
1/4 cup coffee beans,
3 tbsp sugar,
2 or 3 tbsp coconut oil.
Preparation:
Mix the coffee, sugar and coconut oil with a blender until you get a smooth consistency. (Note that if the coconut oil is not refined, it will harden when it cools.)
To apply this simple treatment, massage your skin using this mixture for a few minutes.
Repeat this process 2 or 3 times a week. In a few weeks, you will begin to notice the results.
Finally, leftovers from a mixture store in a glass jar.
Home treatments mentioned in this article are both very cheap and have many benefits to health.
You know how happy you will feel when is reduced your cellulite.
5. Avocado
Avocado is a fruit rich in nutrients that moisturize skin.
Ingredients:
1/2 avocado,
2 tbsp oats,(30 g)
2 tbsp olive oil, (32 g)
Preparation:
Wash the avocado well and divide it in half. With the help of a spoon, separate the fruit from peel and seed.
Put in a bowl and crush it until it becomes a paste.
Add the oats and olive oil. Mix well until you have a homogeneous paste.
Apply the mixture to areas with cellulite on your body, gently massage with your fingers and leave for 20 minutes.
Then wash that area with cold water.
Repeat this treatment three times a week to get good results.
Read More: Top 11 Health Benefits Of Avocado – What is Avocado? How To Eat?
6. Coffee
Caffeine is one of the best ingredients to fight cellulite. Using coffee to reduce cellulite, you can prepare a homemade solution that is both very effective and easy to make.
Ingredients:
1/2 cup ground coffee beans (100 g),
2 tbsp sugar (30 g),
2 tbsp salt (30 g),
1/4 Bowl almond oil (50 g),
1/4 Bowl olive oil (50 g)
Preparation:
Mix all ingredients in a bowl until you have a homogeneous paste.
Apply the mixture to areas with cellulite every day.
You can apply it a little before bathing or taking a bath.
7. Seaweed Bath
Although the effect of this material is not well known, seaweed is a great option for reducing cellulite due to its skin regenerating properties.
Ingredients:
Dried seaweed (50 g),
Water (enough to fill a bathtub in half).
Preparation:
Add hot water to the bathtub and fill it in half.
Then add the seaweed and leave to stand for 3 minutes.
Then enter the tub and stay in the tub for 15-20 minutes. This will help you reduce your cellulite problem over time.
Wash in a seaweed tub twice a week.
Read More: 11 Fantastic Health Benefits Of Seaweed Tea + Recipe And Warnings
8. Lemon Extract
Ingredients:
2 lemon peel, preferably organic,
1/2 bowl natural extra virgin olive oil (100 g),
Preparation:
Wash and peel off lemons.
Chop shells into small pieces and put them in a small clean jar.
Add extra virgin olive oil on top.
Close the jar and leave to stand in a cold, dark place for 10 days.
After 10 days pass, strain the mixture and dilute with the same amount of olive oil.
Lemon extract should only be used at night, as citric acid can cause sunburn when meets the sun.
Read More: Lemongrass: Health Benefits, Uses And Warnings
9. Papaya Cream
Sugar granules purify the skin from dead cells. Thanks to properties, papaya promotes collagen production and destroys dead cells. So it's a good option to reduce cellulite.
Ingredients:
2 tbsp brown sugar (30 g),
1 bowl fresh papaya (200 g).
Preparation:
Wash and peel off papaya. In a bowl, crush until paste has consistency.
Add the brown sugar and stir.
Apply it immediately or save for use another time. After using the mixture, remember to close the lid of the jar so that it does not come into contact with air.
After applying, massage the cellulite area by circling and massage for 20 minutes.
You can repeat this process 3 times a week.
10. Dry Brush
Brush that part to increase circulation in the cellulite area. Brush blow helps to open pores and eliminate toxins that cause cellulite.
Your skin should be dry when applying this process. Therefore, it would be ideal to apply before a shower or bath.
Brush blow should be long and upward.
You can also brush in gentle circular movements to avoid irritating the skin.
The bristles of brush must be made of natural materials. The bristles should be a bit stiff and should have a handle of the brush to make brushing easier.