How to Grow Ginger at Home? How to Grow Ginger in Flower Pots?
This article, where you can find answers to all the details of how to grow a ginger plant, will easily grow ginger in your home. We want to satisfy your curiosity about how to grow ginger at home without wasting much time. Prepare the ingredients, we will grow ginger!
Ginger is a tuberous plant that is frequently found in the territory of India and has been brought up with benefits in that region. Today, Ginger, which is found in powder and Fresh, has an effective power to solve health problems.
We have prepared a letter containing practical information for those who want to grow ginger, which is a cure for many from infectious diseases to weakening. If you want to grow ginger in your home or garden; You should listen to the ginger growing information hidden between the lines.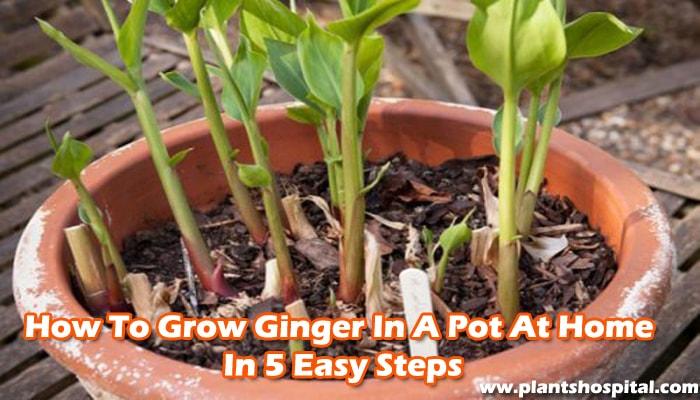 3 Easy Points Of Growing Ginger At Home
• The best time for planting ginger in the winter or spring months: you should make good use of these periods. If you live in very cold cities, it is advisable to evaluate the same periods in the balcony. You can kill roots in outer space.
• You need to check the ginger daily and provide the daily water requirement: For this reason, we recommend that you test the inside of your finger and balance the humidity even if the top of the soil is dried. It is important to water the plant without rotting!
• If you plant ginger in a large garden, you will need to fertilize from time to time: When choosing the fertilizer, you should pay attention to the low clay content. The ginger plant has a structure that does not like clay very much. You can choose plant fertilizer for garden and pot.
Ginger and Ginger Tea: Health Benefits, Uses, Side Effects, and Warning
Materials You Need to Grow Ginger
Growing ginger in Indian style is not as difficult as it is supposed to be. First, you will need to prepare the materials and get to work. We have listed the materials you need as follows:
1 bud ginger or ginger seed.
A wide perforated flower pot.
Loose-structured, well-drained flower soil.
Resting water.
Gloves.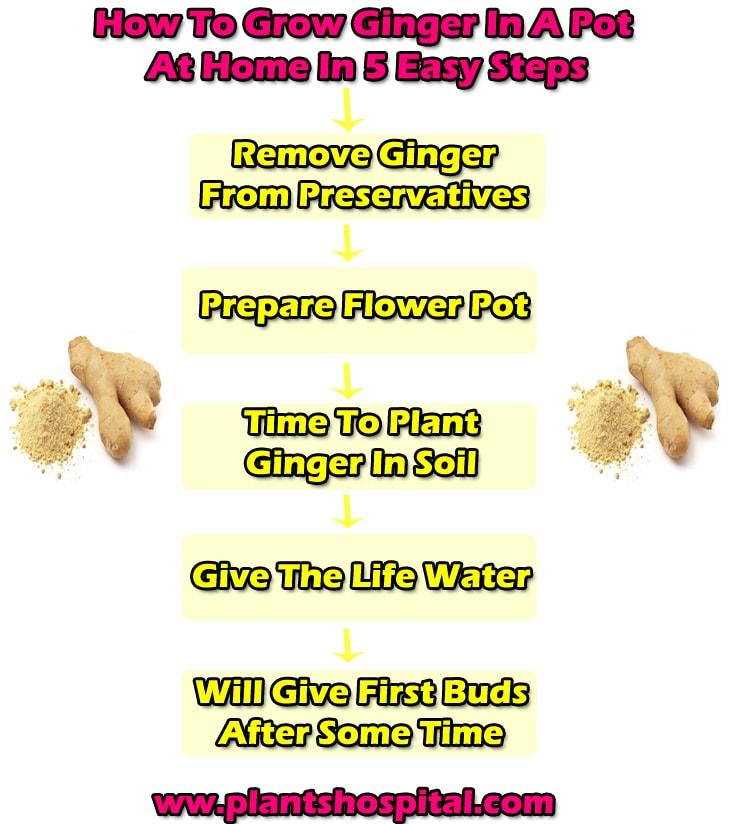 How To Grow Ginger In A Pot At Home In 5 Easy Steps
1) Remove Ginger From Preservatives
• The ginger you buy from the market is kept in the aisles with preservatives. The purpose of these substances is to prevent ginger from germinating when it sees the moist environment.
• To remove preservatives from ginger, you must soak in water for at least 3 hours before the process.
• It is recommended to wait in the water for 12 hours for a stronger germination phase.
• The ginger waiting in the water will release the ingredients in the shell into the water and revive cells to germinate.
2) Prepare Flower Pot
• After waiting in the water ginger should be divided into a few pieces and during this time the pot should be prepared to be planted.
• Having a pot with a hole allows the ginger to grow more efficiently.
• Soil is poured from the base of the pot up to 4 fingers.
• Do not press on the soil while pouring space between them should remain.
• Which size pot you say you should take; width should be at least 40 cm in diameter.
3) Time To Plant Ginger In Soil
• If the pot floor is filled with soil, place the now cut ginger pieces in the soil so that they are far apart.
• Since ginger roots will grow transversely, the distance between them will be important.
• The soil is not too much on the ginger planted in the soil is thrown.
• If you are careful not to bury it too deep, ginger roots can get both sun and air well.
16 Amazing Health Benefits Of Ginger Tea
4) Give The Life Water
• It is important that the ginger planted in the flower pot take life water.
• If you add water to the pot so that the soil remains moist, you can grow the plant without rotting.
• The fact that the water is rested is effective in this regard.
5) Will Give First Buds After Some Time
• Little buds will show themselves about 4 weeks after planting ginger.
• When you wait a little more and wait 3 months later, the plant will say I'm here and it will grow visibly.
• Ginger needs a 10-month wait to grow completely and reach the consumption stage.
• In the past 10 months, the roots of the plant will grow stronger and meet your need for fresh ginger.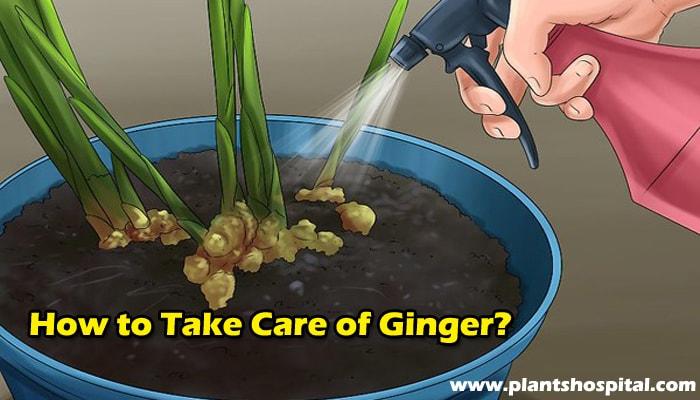 How to Take Care of Ginger?
1) Water Requirement
• Information on how to grow ginger in a pot also includes adjusting the water rate well.
• When the humidity is high, ginger does not dry out and grows healthy.
• It is recommended to add water gradually during the day.
2) Soil Selection
• When you want to grow ginger at home, you should take the soil with a high humus rate.
• Loose and highly drained soils help you grow fertile ginger.
• Soils you will buy from provinces with high humidity can also be useful for you.
3) Positioning
• In response to your question about where and how to grow ginger, we can say that you love humid climates first.
• Ginger that loves moist environment does not like to be dehydrated.
• It can survive with the moisture formed on the balcony, but it requires maintenance every day.
• You can harvest the first ginger in 10 months, when a small amount of watering is done during the day and remains in a slightly shady position.
• It has a structure suitable for growing in the house and on the balcony.
• Ginger can grow if the temperature of the environment is around 10 degrees.
Why Should I Grow Ginger At Home?
• Ginger is a plant used in the herbal treatment of many diseases.
• Ginger, which is frequently mentioned in herbal tea and herbal cures, can be grown at home to be at hand.
• The most natural and hormone-free ginger can easily overcome the disease process.
• Ginger, a popular spice and herb of Indian cuisine, can be ready to add health to your balcony or garden at any time.
• If you want to grow ginger without going to any trouble, you can take a healthy step with our information a few lines ahead.
• Ginger will protect you from cancer and its derivatives!