What is Horse Chestnut? (Aesculus Hippocastanum)
Horse Chestnuts ( Aesculus Hippocastanum) are favorite trees of gardens, parks, and roadways under moist climates. Numerous horticultural varieties have been described. Horse Chestnut is a large deciduous, rapidly-growing tree that can reach a height of 36 meters.
It is native to the countries of the Balkan Peninsula, but because of its large, showy flower clusters, the tree is cultivated worldwide for its beauty. Flowers are white or pink with a small red spot.
Leaves are large, consisting of either five or seven leaflets and the fruit is round with a thick, green, spiny husk containing a glossy brown seed.
Historically, the seed extract was used as a treatment for many ailments, including rheumatism, rectal complaints, bladder and gastrointestinal disorders, fever (first written account in 1720), hemorrhoids (as early as 1886), and leg cramps.
Currently, horse chestnut seed extract (HCSE) is widely used in Europe for chronic venous insufficiency, hemorrhoids, postoperative edema, and topically for clearing skin conditions.
In the United States, HCSE is gaining wider acceptance as an effective therapy for venous disorders and edema, based on the publication over the last two decades of numerous randomized controlled trials in prominent, peer-reviewed journals.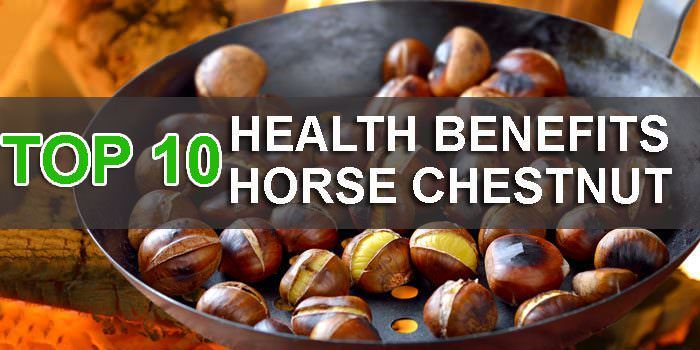 Active Constituents of Horse Chestnut
The primary active constituent found in horse chestnut seed extract is aescin (also known as escin). Aescin is a mixture of triterpene saponins present in two forms, a and b, which are distinguished by their water solubility and melting points.
Recommended Use of Horse Chestnut
Internal use: Horse chestnut seed standardized extract containing 16 to 20 percent aescin—300 milligrams (approximately 50 milligrams of aescin) two to three times daily.
External use: Gel or cream containing 2 percent aescin—apply topically to the affected area three to four times daily.
How To Horse Chestnut Works?
Aescin is a full-service tonic for the veins and capillaries. First and foremost, it helps improve the strength and tone in the walls of the veins and capillaries. Some researchers call this a "vascular tightening" effect probably not much different from the effect we get when we put astringent creams on our face.
This improves the return of blood to the heart and discourages the pooling of blood and resulting edema (fluid retention) that is often seen in the ankles and lower legs of persons with CVI.
This anti-edema effect is also enhanced by aescin's ability to help pooled fluid drain from surrounding tissues back into the capillaries.
Aescin's anti-edema and anti-inflammatory actions have contributed to its success as a topical treatment for traumatic injuries such as strains and sprains. Since this is the isolation of one constituent from horse chestnut and not an herbal extract, we'll concentrate our focus in the next section on the use of HCSE for CVI.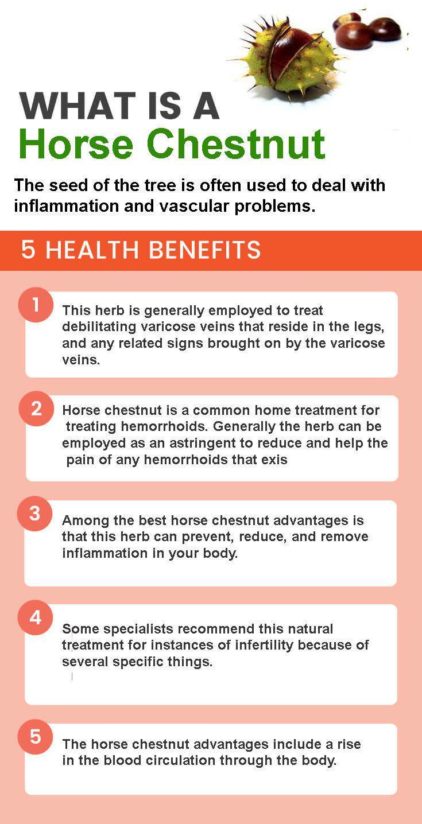 Top 10 Health Benefits of Horse Chestnut
Anti-edematous Activity
HCSE administration increases sensitization to calcium ions, decreases the permeability of small vessels, and enhances venous contractile activity, thereby improving venous tone and having a "sealing effect" at the sight of injury.
The result is decreased edema and swelling. Aescin's anti-edematous property is also attributed in part to its inhibition of hypoxia and the resultant reduction of ATP content in endothelial cells.
Reduced endothelial ATP levels initiate the release of prostaglandins, platelet-activating factor, and neutrophil chemotaxis, leading to venous stasis and edema. Aescin also reduces the adherence and activation of white blood cells, thereby inhibiting edema and protecting the vessels.
Anti-inflammatory
The anti-inflammatory properties of aescin have been demonstrated in animal models and suggest it interferes with the release of inflammatory mediators by decreasing leukocyte activation and adhesiveness.
In a rat model of pleurisy, aescin administration decreased leukocyte migration into the pleural cavity and inhibited the release of inflammatory mediators.
A human study of patients with chronic venous insufficiency showed 5 mg aescin given intravenously twice daily for a week resulted in a 33-percent reduction of leukocyte density, a 50-percent decrease in macrophage numbers, and a 46-percent increase in neutrophils in inflammatory exudates.
Venotonic
Animal studies in dogs and in vitro studies using human saphenous veins demonstrated aescin's vagotonic properties are linked to its ability to enhance the production of prostaglandin F2.
Prostaglandin F2 inhibits catabolism of venous tissue mucopolysaccharides and improves venous contractility. In dogs, 25-50 mg injected aescin resulted in a dose-related increase in venous pressure of nearly 21 percent, with an increase in final maximum pressure of 30 percent compared to baseline.
In the in vitro study using human saphenous veins, a dose-response curve demonstrated purified β-aescin increased venous tone by 10-20 percent at low concentrations that would correspond to reasonable oral dosing in humans.
Post-Operative Edema
Surgeries involving large limbs or lymph nodes often result in post-operative edema in the affected limb. Two clinical trials demonstrate HCSE given intravenously decreases skin temperature and edema in postsurgical patients.
In the first trial, patients undergoing surgery for hernia repair, meniscus removal, or lower leg fracture, received intravenous aescin treatment (5-10 mg aescin twice daily) on the day before and three days after surgery.
The primary endpoint of the trial was skin temperature comparison between the surgical area and the contralateral side.
Skin temperature is a relevant indicator of circulation and swelling in the affected limb. In the post-surgical patients receiving intravenous aescin, skin temperature was lower in the operated side than in the post-surgical patients receiving no treatment.
In the second trial, patients undergoing hand surgery received 10 mg intravenous aescin twice daily (duration unknown) or no treatment and were assessed with infrared thermography until symptoms disappeared.
In the patients receiving aescin, peak hand temperature difference (between treated side and contralateral side) was noted on the second post-operative day, indicating an improvement in skin circulation and swelling, compared to subjects in the non-treated group for whom peak hand temperature difference was not observed until four days post-surgery.
Hemorrhoids
Hemorrhoids are characterized by congestion of internal and/or external veins around the anal canal. Hemorrhoids may be a result of straining during defecation, chronic constipation or diarrhea, anal intercourse, pregnancy, or aging.
Two-thirds of healthy people reporting for physical examinations have hemorrhoids. Conventional treatments for hemorrhoids include topical anti-inflammatory agents, astringent creams, rubber band ligation, or surgery when severe.
While horse chestnut seed extract has been used effectively to treat hemorrhoids, supportive clinical research is limited.
Inner Ear Perfusion
Based on aescin's anti-inflammatory and vagotonic properties and the vasoprotective antioxidant properties of troxerutin, a natural flavonoid derivative, researchers investigated whether the combination of the two would affect treating inner ear disturbances.
Many of these conditions and the resultant loss of hearing are known to be due to circulatory insufficiency in the inner ear.
Herb-Drug Interactions
It is possible that aesculin, a hydroxycoumarin, may potentiate the effect of anticoagulant medications. However, other research suggests this effect is only seen with aesculin, a bark constituent not found in HCSE.
Due to the lack of clinical research in pregnant or nursing women, HCSE is contraindicated in this patient population.
Side Effects and Toxicity
Side effects with standardized extracts of horse chestnut seed are rare. They can include itching, nausea, upset stomach, and calf spasm.
Because of reports of intravenous aescin causing worsening of kidney function in persons with kidney disease, it is probably best for persons with kidney disease to avoid internal use of the extract. Individuals with liver disease should also avoid horse chestnut seed extract.