What is Quinoa?
Quinoa is native to South America, where locals have cultivated it for thousands of years. It has a natural covering called saponin (a bitter resin that keeps birds away) and does not need to be treated for cultivation.
For these reasons, quinoa can nearly always be sold with the labeling "organic food". In recent years, quinoa's worldwide popularity has increased tremendously, thanks in large part to its many nutritional properties and quality taste, as well as several beneficial health properties.
Itis the edible seed of a plant that has its relation to the green leafy vegetables family such as spinach. Quinoa is technically the seed of a plant that, as its Latin name, Chenopodium quinoa, suggests, is related to the beet, chard, and spinach plants.
While the most popular variety is transparent yellow, other varieties are orange, pink, red, purple, or black. Quinoa seeds, which are rich in amino acids, are not only very nutritious but also quite tasty.
The proportion of carbohydrates is quite similar to that of cereals. However, its high protein content and amino acids is what makes quinoa so interesting. Quinoa is the only plant that exists that has a similar level of amino acids as soy.
This plant also contains the nine essential amino acids, including lecithin (lysine), that constitute a complete protein. This makes this seed a highly recommended part of a vegetarian diet.
It is also gluten-free, so people with celiac disease have a great nutritional option.
It can play an important role in eradicating hunger, malnutrition, and poverty, FAO Director-General José Graziano da Silva said today at the official launch of the International Year of Quinoa at un headquarters.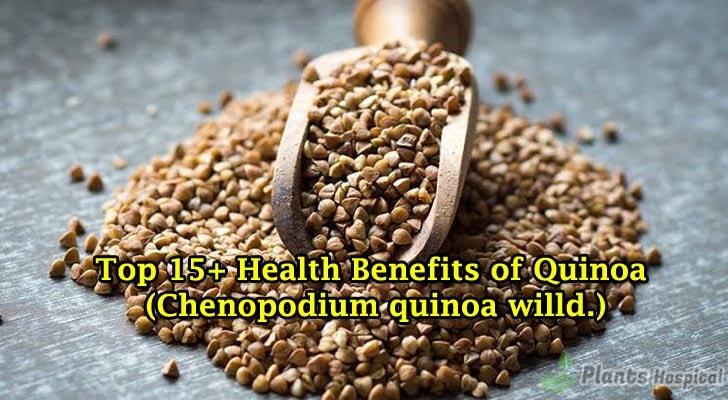 Top 15+ Health Benefits Of Quinoa
Due to the rich nutrient content it contains, many benefits of the quinoa plant are available;
Aids in Weight Loss
This has fiber levels that help you in losing weight. It helps you feel full for a longer duration of time. It also contains proteins to improve your metabolism rate and maintain blood sugar levels.
Consuming quinoa and other whole grains reduces abdominal fat easily, as they are gluten-free – best for dieters.
Constipation
It is suggested to eat quinoa to treat constipation as it helps in the proper passage of food through your digestive tract. Consume this regularly to prevent flatulence, constipation, and bloating.
You can also add quinoa in soups and various foods that require grains as the main ingredient. It has folate and Vitamin B that eliminates waste from your body.
Read More: 10 Proven Herbs And Tea to Relieve Constipation: 10 Natural Remedies
Diabetics
This herbal seeds contains a protein that helps to maintain body weight and improve muscle mass. It is best for individuals with diabetes, as this has fiber and magnesium.
Fiber regulates blood sugar and magnesium utilizes glucose and secretes insulin. It can be used by diabetes patients as a cereal. Many health practitioners suggest quinoa in the case of gestational diabetes.
Supports a Healthy Heart
Doctors recommend quinoa for people with heart problems, as this doesn't increase cholesterol levels. This can lower cholesterol, which can further reduce damage to your heart.
Helps to Fight Cancer
Eat 3 servings of whole grains like quinoa every day to reduce the risk of cancer. Since quinoa is such a great source of antioxidants (which I'll delve into a little later), it's probably no big surprise that it has anti-cancer properties.
However, the extent of research might shock you quinoa as a standalone food, and three specific nutrients found in quinoa seeds are some of the most revolutionary topics of research regarding preventing treating cancer.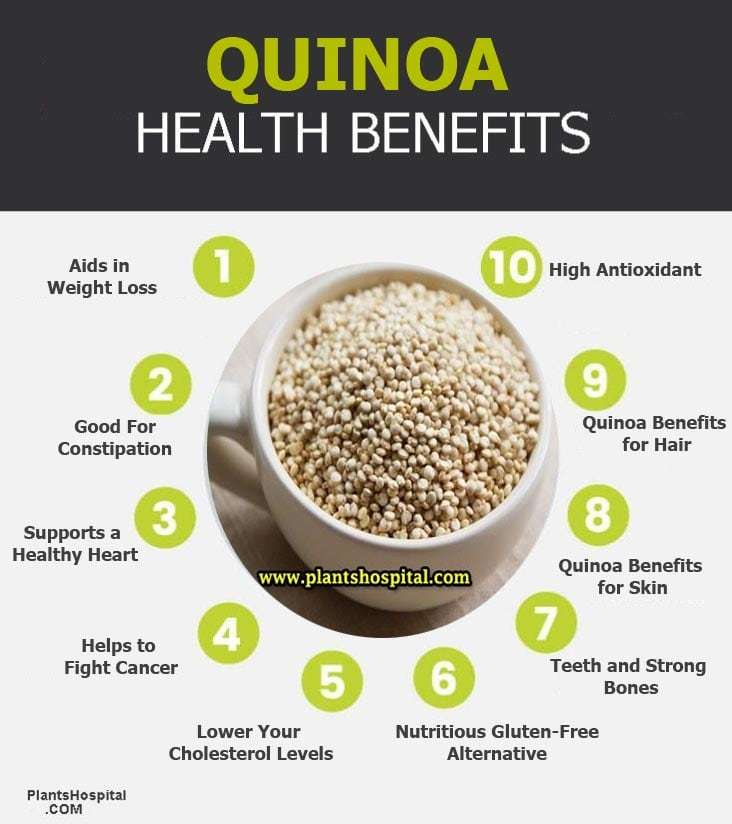 Lower Your Cholesterol Levels
It has soluble fibers that can mix with bile in your liver and produce a substance that gets eliminated through your bowel movements. The liver can use this cholesterol to produce bile acids.
As their level reduces, it has to use this from the blood. Thus, the total cholesterol levels go down. You can also eat quinoa to lower cholesterol substituting for meat, egg, and other proteins.
Nutritious Gluten-Free Alternative
Wheat-sensitive people can use quinoa to prevent gluten allergies. Quinoa is gluten-free and contains a good amount of nutrients. It may be beneficial for people following a gluten-free diet, providing nutrients they are missing after eliminating traditional grains from their diets.
A 2009 study reviewed diet records of patients with celiac disease who followed a gluten-free diet, finding that most subjects relied heavily on rice as their primary grain source, which made their diet inadequate nutritionally.
Pregnancy(the most important)
Add this plant to your diet to get an adequate protein during pregnancy. This is even better than meat and soybeans due to its essential amino acids.
Teeth and Strong Bones
Want good teeth and stronger bones? Consume quinoa seeds are the best source of calcium. Instead of drinking processed milk to build healthy bones, you might want to try eating more quinoa.
Because of its high manganese, magnesium, and phosphorus content, quinoa nutrition is a bone-building powerhouse- it might even help to prevent osteoporosis.
Quinoa Benefits for Skin
Prepare this Quinoa anti-aging face pack at home:
It has protein and anti-aging properties and soy milk. This can nourish and repair your sun-damaged skin, and also add elasticity. This face pack is useful to get glowing, soft and even-toned skin.
Consume quinoa seeds for the required collagen to rejuvenate the skin from within and reduce the signs of wrinkles and other related symptoms of aging. This can also make your skin soft glowing, smooth, and supple.
It has lysine that helps in the synthesis of collagen and elastin. Lysine is a beneficial nutrient that can't be synthesized by our body; hence it needs to be taken from the food source.
This helps in quick healing of your damaged tissue and recovery from major surgeries or injuries is faster. It can also make scar tissue and ligaments recover very quickly.
Vitamin content in quinoa can lower the clusters of melanin granule and thus reduce brown spots and pigmentation on the skin.
Quinoa Benefits for Hair
Consume quinoa every day to get silky and shiny hair. It adds nourishment to the hair follicles. It is also needed for a good nervous system and red blood cell formation for a better rate of hair growth.
This plant cleanses and nourishes the hair with its vegetable protein. It has amino acid to repair, and protein to protect and strengthen the hair shaft.
It has nine essential amino acids that are natural strengtheners and can protect hair shafts. The amino acids can repair damaged hair and stimulate hair growth.
Other Nutrients in Quinoa
One cup of cooked quinoa (185-200 g) provides 15 percent of the recommended daily intake of iron, and 5 grams of fiber, which is 21 percent the recommended amount. It is also an excellent source of magnesium, with 118 mg per cup, cooked.
According to the USDA nutrient database, 1 cup of cooked quinoa provides:
41 g carbohydrates
31 mg of calcium
76 mg iron
318 mg potassium
13 mg sodium
02 mg zinc
How to Make Quinoa?
If you can cook rice, you can cook quinoa. Here's the simplest way to cook quinoa:
Side Effects
It has very few health risks and can be consumed by most people. It is safe when taken in good amounts.