Potato juice is a very nutritious and beneficial natural product that contains important vitamins and phytochemicals. It has a key role in the natural solution of many health problems, especially stomach ailments.
An average size potato contains 161 calories out of many vitamins and minerals. The nutritional content varies according to the use of potatoes, for example, when fries are cooked and boiled will be more fat and more calories.
Besides eating it, the benefits of potatoes can be used by drinking water or making a raw potato mask.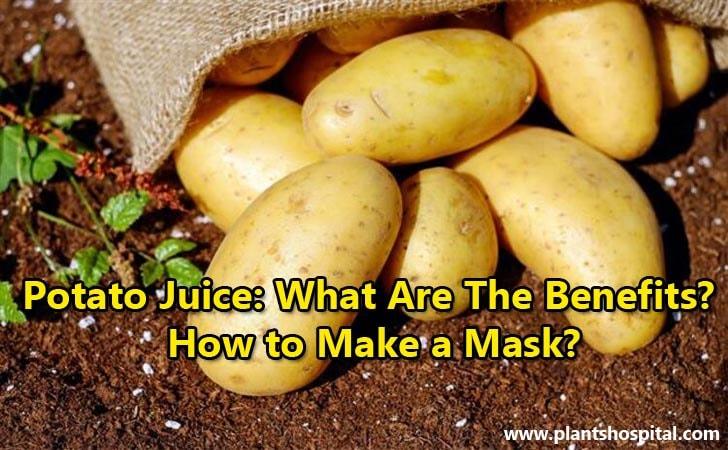 What Are The Benefits Of Potato Juice?
Contains High Levels Of Vitamin C: It helps the body absorb iron when consumed, and collagen is formed in blood vessels, muscles, bones and cartilage. Thanks to the high antioxidant properties of vitamin C, it relieves bloating, removes edema, reduces irritation and helps skin shine.
It is Also Rich in B Vitamins: A glass of potato juice contains about 40% of your daily B-1 and B-3 vitamin needs. It also contains a certain amount of vitamin B-2 and B-6.
B vitamins play a major role in converting carbohydrates into glucose. Carbohydrates that convert to glucose are vital for the body as they meet the body's energy needs. B vitamins also help strengthen the brain and nervous system, maintain liver health and have healthier hair.
Read: 13 Amazing Health Benefits Of Walnut Juice & Uses And How To Make?
Contains Potassium: Potatoes are very rich in potassium and contain about 3-4 times as much potassium as a medium-sized orange. There is about 1.46 mg of potassium in one serving of potatoes, which accounts for about 31% of the amount of potassium that should be taken daily.
Contains Plenty Of Iron: Iron is found in a lot: iron is one of the ingredients needed to keep a body fit. Iron is also found in large quantities in potatoes, which help keep red blood cells healthy and keep oxygen in the body. A glass of potato water contains enough iron to meet approximately 14% of the daily iron requirement.
Besides these, 1 cup of potato juice contains 5% of daily calcium requirement, 5% of daily vitamin K requirement and 10% of daily zinc requirement.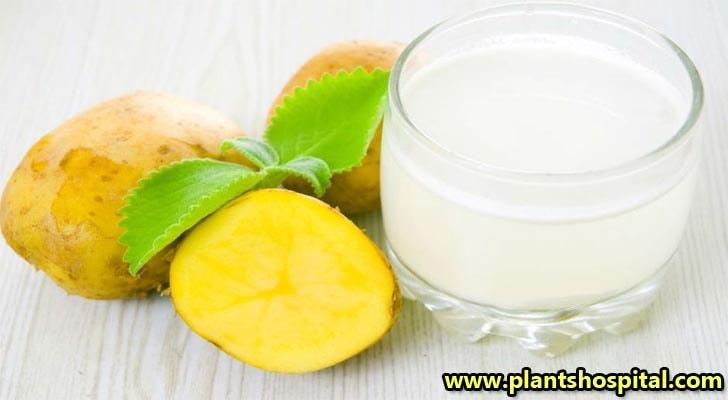 Top 7 Scientific Benefits Of Potato Juice
Contain High Amounts of Antioxidants: Potatoes are quite rich in flavonoids, carotenoids, and phenolic acids. These compounds neutralize potentially harmful molecules and thus serve as antioxidants in the body. When these harmful molecules, known as free radicals, accumulate in the body, they can increase the risk of difficult-to-treat diseases such as heart disease, diabetes, and cancer.
Supports Digestive System and Reduces Insulin Resistance: Potato juice contains a special type of starch known as resistant starch. The body cannot break down this starch and absorbs it all. Absorbed resistant starch is an important food source for beneficial bacteria in the thick skin. According to research conducted, resistant starch can reduce insulin resistance and help diabetes patients.
Gluten-Free: People with celiac disease or gluten intolerance may experience serious ailments while consuming gluten foods. Potato, a gluten-free food, is an excellent food as it won't bother people with intolerance.
Increases Energy Level: The natural sugar in potato water is an excellent source of energy.
Helps Treat Ulcers: Potato juice is one of the best known antacid ingredients. In this way, it helps to balance the acid in the intestines and to treat or prevent stomach ulcers.
Heals Wounds: Potato juice, which is rich in vitamin C, accelerates the healing of wounds as it promotes collagen production.
Used to Treat Hemorrhoids: It provides shrinkage of raw potatoes and swollen hemorrhoids and helps the patient to continue his daily life with his pain-relieving feature.
Read: Raspberry Juice: 9 Best Health Benefits, Uses, Recipes And Warnings
How to Prepare Raw Potato Juice?
The making of potato juice requires a little more effort than making other fruit and vegetable juices, but the benefits are enormous.
Potato peels should not be peeled while making potato juice. The peel of the potato contains high amounts of vitamins and antioxidants, and peeling the Peel will reduce the benefits of potato juice. For this reason, instead of peeling the potato peel, the potato should be thoroughly washed and cleaned from dirt.
Potato Juice Making:
After washing and cleaning 2 large potatoes, cut them into small pieces.
Add the potato pieces and 2 cups of water into the mixer and stir for about 2-3 minutes.
Strain the water of the resulting purée and leave the water to cool for 2-3 hours.
Why Drink More Potato Juice?
Hair Health: It is a very effective antioxidant for hair health. It is also possible to increase the brightness and strength of hair strands when massaged from root to hair with potato juice, which prevents dandruff formation, inflammation, and dryness of the scalp.
Stomach and Colon Cancer: The juice of potato has been widely used in European Medicine to treat stomach cancer and colon cancer in past times.
According to many scientists, potatoes contain many phenolic, protein and glycoalkaloids with antioxidant and anti-inflammatory properties. Some active ingredients in potato juice can help reduce the size of cancerous cells.
Wound Treatment: It can remove wounds and inflammation on the skin, even on very different skin types. It also helps the skin retain moisture and quickly cleans dry and spilled skin.
Potato Juice Diet
The raw potato juice diet, which helps to lose weight quickly, can help to lose about 5 pounds a week, although it varies according to each body. It is also a natural fat burner while supporting the digestive system.
When you consume it on an empty stomach in the morning for a week, it speeds up fat burning but also creates a feeling of satiety as it contains high amounts of fiber. During the potato diet, the person should stay away from sugary foods and should be fed protein-based.
Read: Natural Charcoal Mask – Does Charcoal Mask Help Clean Blackhead?
What Are The Uses Of Potato Juice For Skin?
The juice of potato, which is applied to the spots with a cotton wool, is good for sunspots, wrinkles and burn spots.
Also, for under-eye bruising and swelling, you can mix equal amounts of cucumber juice and potato juice and apply it under the eyes.