What is Oat Milk?
While fiber foods a source of health, oats are a fiber store. A bowl of yogurt, add 1 – 2 tablespoons of oats to milk and mix a few of the forest fruits when you mix it is possible to prepare a healthy and very tasty snack. But it wouldn't be too accurate to see oats as a breakfast cereal added only in milk and yogurt.
Because oats have many different uses and consumption areas. Especially oat milk, with flavor and numerous benefits, must be found in almost every house.
So we can say; with oat milk, which is a store of fiber, it is possible to lose weight and healthily suppress hunger. Since we cannot prevent sweet crises, is best to overcome them healthily. So, what is oat milk, How is used, what are benefits and how to prepare oat milk?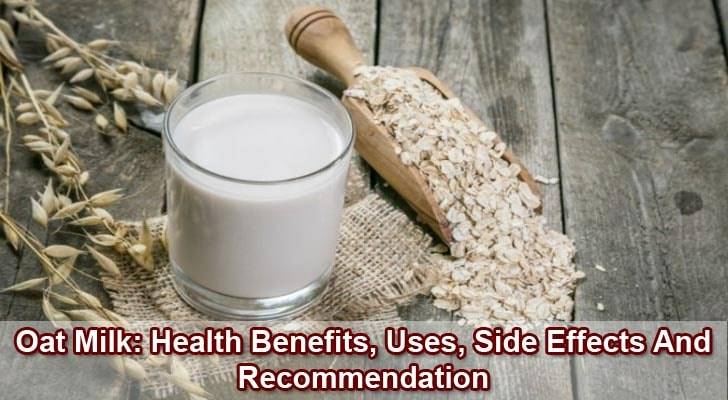 What Are The Health Benefits Of Oat Mil?
Oat milk has many benefits listed below and these are mainly because of the high proportion of fiber found in oats. Oats are nutrients that have the highest fiber content among other grains or breakfast cereals. This is why oats should be in healthy eating programs. Likewise, the high fiber content of oat milk makes a useful and valuable nutrient.
The high fiber content of oats and oat milk provides many health benefits such as lowering blood pressure, improving stomach and digestive problems, facilitating weight loss and treating certain types of cancer.
Helps to Balance Blood Pressure
Blood pressure values must remain in balance. High or low blood pressure causes many diseases, especially the brain, heart, and vascular diseases. To prevent this, you need to consume foods such as oats that are high in fiber content at least once a day. Oat milk also reduces blood pressure by cleaning blood, supports a healthy body.
Strengthens Digestive System
The health of the digestive system can be a determinant of the health of the whole body and it is necessary to add oats to the nutrition program for a healthy digestive system.
Protects Stomach Health
A stomach that healthily performs functions supports the functions of all other organs. It is recommended that foods such as oats, which are also rich in fiber, be consumed every day or at least every 2 days for stomach health.
Read: Oat Straw Tea: Benefits, Uses, Recipe And Recommendations
Anti-Cancer
Fiber foods help the body's systems work healthily and therefore prevent the formation of cancer in cells. In this respect, consuming oats and oat milk, which is a store of fiber, regularly will be a healthy choice.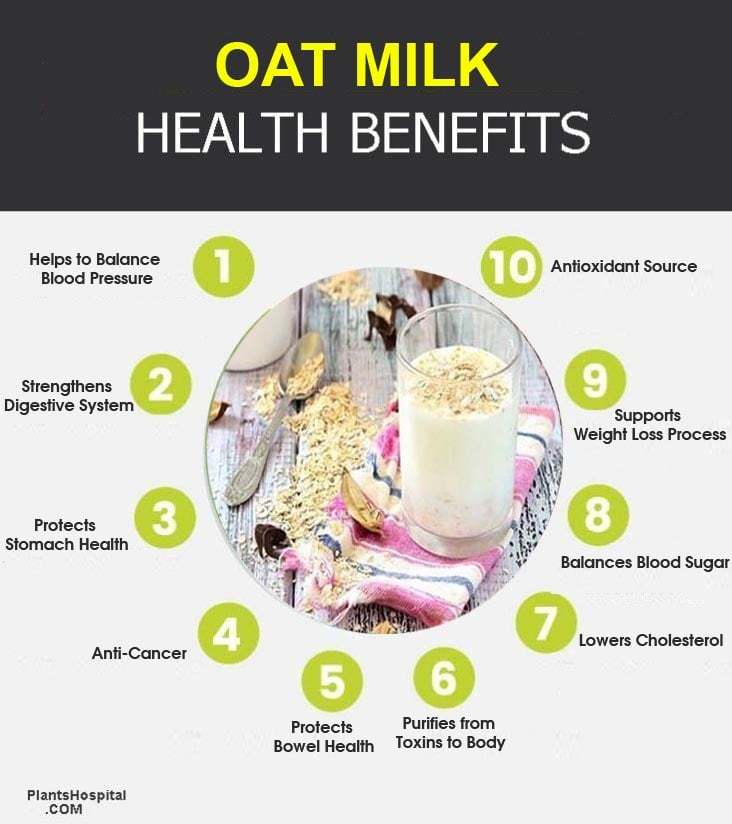 Protects Bowel Health
The gut that works healthy is the guarantee of a healthy digestive system and a healthy body. For the health of intestines, fiber-rich nutrition is required. Oat milk cleans intestinal walls with fiber contains and purifies blood circulation from waste.
Oat milk, which prevents the accumulation of toxic substances in the gut, reduces the risk of developing cancer, especially colon cancer. It also promotes intestinal and digestive health by promoting the growth of gut bacteria beneficial to health in the intestines and also preventing constipation.
Purifies From Toxins to Body
Both oat and oat milk contains a high proportion of fiber, which is a diuretic and the body is free of toxins. With intake fiber, intestines function properly, creating a detox effect in the body.
Lowers Cholesterol
Cholesterol; sterol, which is taken from the food of animal origin, found in the blood and to a large extent bile. Cholesterol is a substance produced by the liver that resembles wax, fat, and is essential for the production of cell membranes, vitamin D, and certain hormones in the body.
But if this cholesterol rises, low-density lipoprotein (LDL) accumulates in the veins, serious health problems such as heart attack and stroke can occur. In this respect, LDL, called bad cholesterol, should not rise.
For this reason, is recommended to eat rich in fiber. Oats and oats milk also reduces cholesterol levels thanks to abundant fiber, clears arteries, protects whole-body health, especially the heart and vascular health.
Balances Blood Sugar
Excessive consumption of foods that provide a feeling of satiety increases glucose production and may cause diabetes. However, oat milk, which is a store of fiber, keeps glucose level in balance, giving a feeling of satiety, and the blood sugar level remains at a healthy level.
Read: Tarragon Tea: Health Benefits, Uses, Recipes And Dosage
Supports Weight Loss Process
As oat milk rich in fiber, both make the digestive system work better and gives a feeling of satiety for longer. In this way, is becoming one of the foods that are preferred frequently by those who want to lose weight.
The fact that oat milk contains low calories and also has very little fat and sugar suggests that is more beneficial than many other sweet alternatives. It is an accurate sweet alternative in the weight loss process. By drinking oat milk, is possible to feel full for hours, to eat without eating too much when comes to eat time, and to suppress the desire for dessert.
It is recommended to consume oat milk with other foods such as grated coconuts, bananas, strawberries, cinnamon, cloves, vanilla and cardamom, which are rich in fiber, to make much more nutritious and quality in the weight loss process.
When and How Much to Drink Oat Milk?
It is recommended to drink on an empty stomach in the morning before breakfast to benefit from the benefits of oat milk listed above. In this case, will provide longer satiety and better functioning of the digestive system.
It is also sufficient to drink 1 or 2 cups of oat milk a day. Maybe right to drink one cup of tea half an hour before breakfast and lunch. In this way, the person who feels full will not eat too much food during breakfast and lunch.
Nutritious and Delicious Oat Milk Recipes
If oat milk is to be simply drunk, is better to drink half an hour before breakfast and lunch. It is also possible to mix many fruits into the milk of oats to be drunk as a decant and to obtain new flavors. Oat milk can be used in smoothies, desserts, sauces, and even soups.
Read: Cherry Stems: 13 Proven Health Benefits, Uses And Side Effects
Delicious and Healthy Oat Recipes
1. 3 cups of water to the boil in a saucepan, close the stove and add 1 cup of oatmeal into it. Wait about 30 minutes until oatmeal draws the water well. Then add 4 teaspoons of barley miso and stir. Eat with pleasure.
2. 5 cups of water to boil and add 1 cup of oatmeal into. After cooking for about 10 minutes, turn off the stove and wait to come to room temperature. Then add 2 tablespoons of barley miso into and mix well. Keep mouth closed until morning and place the mixture in the mixer in the morning and stir until soft. Drink cold with an empty stomach.
3. Cook 1 tbsp oatmeal in 1 cup of water. Add 1 tsp of honey, organic sugar, cinnamon or sweeteners such as sugarcane and let wait until morning. You drink with an empty stomach in the morning.
Read Next: