What is Masala Tea?
Masala tea, known as India's famous spicy tea, means 'mixed spice' in the Indian language. This tea, which is prepared by mixing many medicinal plants with black tea, has many benefits to health depending on the plants it contains. It is also a common practice to add warm milk to tea, just like in British culture in Indian culture.
You can prepare masala tea, which is sold as a ready-made mixture, by taking the spices separately and mixing them, or even by changing the proportions according to your taste, and you can enjoy this delicious tea especially on cold winter days.
What Are The Health Benefits Of Masala Tea?
Masala tea can simply be described as a mixture of spices, milk, and black tea. The word Masala means 'mixed spice' in the Indian language.
Known all over the world as 'masala chai', the ingredients of this mixture are usually made using spices with intense taste and aroma such as cinnamon, cardamom, cloves, black pepper, ginger. It is also known as 'chai latte' due to its Indian tea or milky content.
Ayurveda, a healing practice practiced, recommends masala mixture because of good for many ailments in India for thousands of years.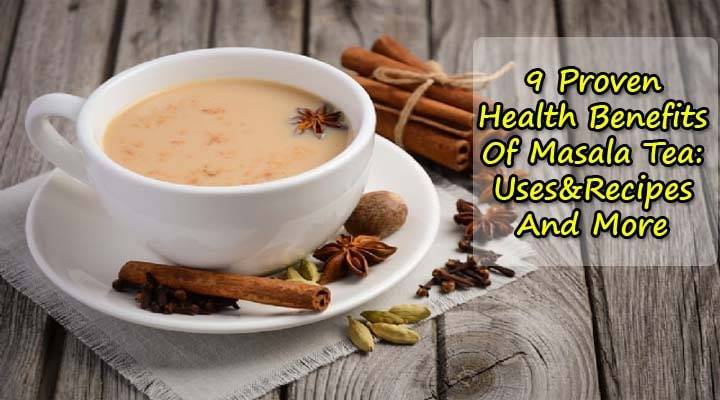 Accelerates the healing process of diseases such as flu, cold, and common cold.
Removes sore throat.
Nasal congestion, especially due to flu and sinusitis-like diseases, reduces the complaints of runny nose significantly.
It helps to reduce stress, relieves depression and anxiety-like ailments and reduces symptoms.
It helps to reduce the negative physical and psychological conditions that can be experienced during seasonal transitions.
It helps to protect heart health. By relaxing the vessels, it regulates blood circulation and thus helps to lower cholesterol.
Due to anti-inflammatory properties, it is effective in reducing inflammation and pain and tension associated with such inflammation in the body.
It helps to eliminate restlessness experienced during the menstrual period. Masala tea, which is consumed regularly (1-2 cups per day), reduces complaints such as restlessness, weakness, stress, novelties and joint pains due to premenstrual syndrome.
Masala Tea Recipes
Easy Masala Tea Recipe: In a teapot 3 cardamom, 4 cloves, 2-3 black pepper, a piece of dried ginger, a cinnamon stick, a teaspoon of anise and two teaspoons of black tea is mixed, two cups of boiled water is added. Infuse for 10 minutes with the lid closed. After draining, half a glass of hot milk and optionally honey is added to the mixture.
Masala With Green Tea: 3 cardamoms, 4 cloves, 2-3 black pepper, a piece of dried ginger, a cinnamon stick, a teaspoon of anise and two teaspoons of green tea on top of two cups of boiled water is added. Shut down to lid and infuse for 10 minutes, then filter and serve.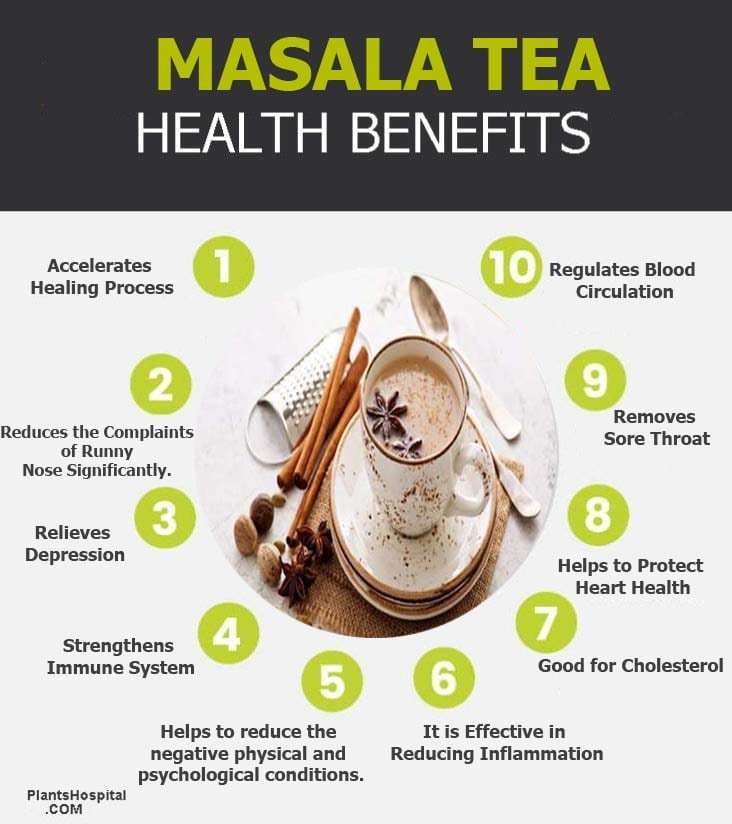 How to Prepare Masala Tea?
Boil three cups of water in a saucepan or a large teapot.
6 cardamom, 4-5 cloves, 4 black pepper (black, red or white ones can be used) and one teaspoon of anise (or 2-3 star anise) lightly crushed by taken into a mortar and added into water.
3-4 slices of fresh ginger (or 2 pieces of dried ginger), a roughly crumbled crust of cinnamon is also added to the mixture.
1 cup of milk is added to the mixture. Soy milk, almond milk, or goat's milk can also be used as an option.
The mixture is boiled for 2-3 minutes (one stone) and closed under.
2 tablespoons black tea is added to the mixture.
Leave to infuse for 10 minutes with the lid closed.
Sweetened with honey after straining.
Nutritional Value of Masala Tea
This beverage has a very high nutritional value. With a calorie count below 100, you can have it without any worries and enjoy its multitude of benefits. When consumed without milk or sugar, masala tea has 0% fat and can, therefore, be recommended to people of all age groups.
It has also been known to help in weight loss. If you are looking to eat just the right amount of calories daily, you must add masala chai to your diet.
Packed with flavor, and with less than a hundred calories, it is the perfect route to fitness. It is also very easy to make. All you need to do is take some crushed clove, cardamom, and cinnamon in a bowl. Add some ginger and pepper and boil all these ingredients in water.
Remove pan from the stove and allow it to steep for about 5 minutes. Now all you have to do is add a little bit of milk and sugar to the mixture. Allow this mixture to boil and then add black tea to it. You can now pour into teacups and reap benefits.
Side Effects
x Masala tea prepared with black tea can cause side effects such as insomnia, nausea, and dizziness when consumed too much due to caffeine content.
x People with a serious digestive system disorder are advised to consult a doctor regularly before consuming masala tea.
x If you are taking any antidepressants, consuming too much masala tea can reduce the effects of medication.
x If you are being treated for diabetes and cholesterol, you may need to consult a doctor before regularly consuming masala tea.