Kiwi tea is good for fatigue and insomnia. It is beneficial for the nervous system and provides healthy regeneration of the body. Kiwi, which is a great store of Vitamin C, is a very useful tea if you drink 1 cup in the morning and evening.
It contains vitamin K, vitamin E, beta carotene, lutein, and zeaxanthin. It contains B vitamins, niacin, riboflavin, thiamine, and vitamin A. On the other hand, Kiwi contains no sodium or cholesterol.
What is Kiwi Tea?
Kiwi tea is used as a very beneficial tea due to delicious ingredients. Kiwi is made by drying into powder.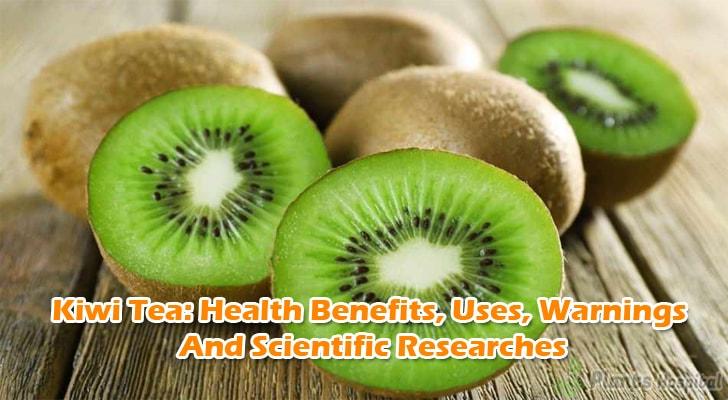 What Are The Benefits Of Kiwi Tea?
Kiwi Tea is Good For Colds And Flu
Because of abundant vitamin C content in Kiwi, it has become quite successful in the treatment of many respiratory diseases.
Studies have shown that adding any form of kiwi to food programs and diet lists is effective in both adults and children at a young age who suffer from respiratory diseases such as asthma.
Another study concluded that it was highly beneficial to reduce the number of symptoms, such as wheezing, head congestion, and severe sore throats.
It is a Powerful Antioxidant
Kiwi tea contains many nutritional elements, phenolic components, carotenoids, and vitamin C, and provides great health benefits.
According to a study conducted, Kiwi especially, orange and grapefruit mixtures showed more powerful antioxidant properties.
Due to the presence of phytochemicals, it minimizes the risk of developing inflammation-related diseases. It also protects DNA from damage that free radicals can cause in the body.
Supports Cardiovascular Health
Kiwi tea contains plenty of vitamin C, vitamin E, potassium (K), and protective polyphenols, just like citrus fruits. It is also very useful in protecting cardiovascular health as is a rich nutrient in all of these. Another study revealed that kiwi fruit can play a preventative role in reducing triglycerides in the blood.
According to another study, regular consumption of kiwi every day reduces the risk of platelet attack or possible blood clotting.
It is concluded that with preventive effect on blood vessels, prevents the risk of heart diseases such as thromboembolic and atherosclerosis.
Helps Digestion
Kiwi tea also contains the protein properties of an enzyme known as actinidain. This active ingredient is generally known for use to soften meat.
On the other hand, however, it also helps with protein digestion in the stomach. It can also support people with sensitive bowel syndrome.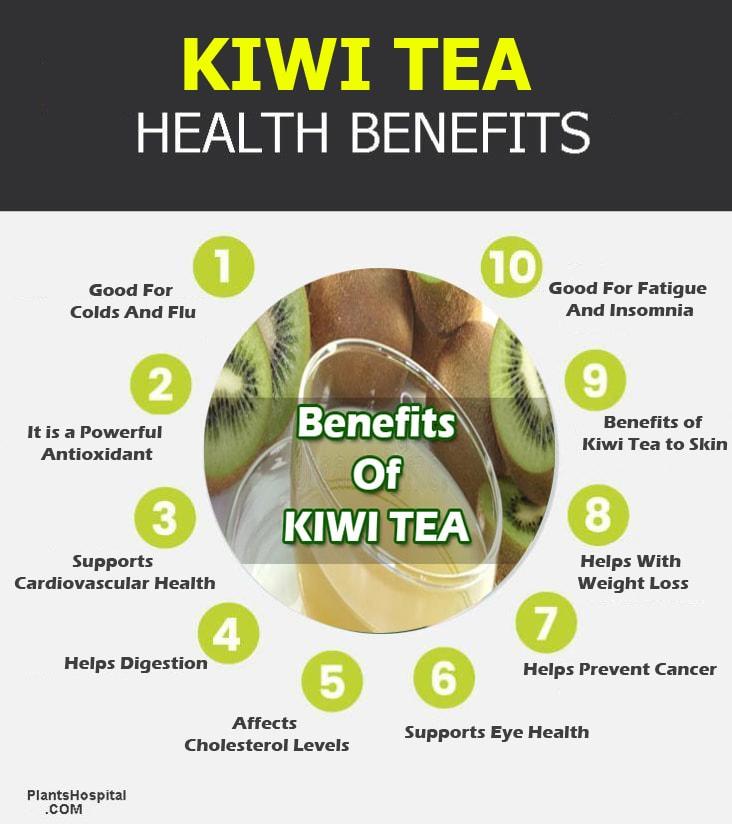 Affects Cholesterol Levels
Because of contains abundant antioxidant substances in kiwi, it can also decrease triglyceride levels significantly. It even benefits in problems such as blood clotting and blood thinning in the body.
On the other hand, because of contains abundant vitamin C, it lowers LDL levels known as bad cholesterol.
At the same time, it not only support this but also increases the level of good cholesterol. Kiwi's ability to lower LDL cholesterol is related to fiber and potassium content.
Read More: High Cholesterol: Types, Causes, Diagnosis, and Treatment
Supports Eye Health
The macular degeneration associated with the problem of premature aging can neutralize kiwi fruit consumed regularly. Kiwi tea, which is rich in many vitamins and antioxidants, is known to be effective for the health of the retina and supports eye health. A cup of regular Kiwi tea prevents eye diseases.
The antioxidants prevent oxidative damage to the macula of the eye and greatly inhibit UV light that threatens sensitive eye tissue.
Helps Prevent Cancer
Kiwi, you will be surprised, but BC. it has been used frequently in Asia for 700 years to help prevent the cancer problem.
The high concentration of kiwi fruit in terms of flavonoids and carotenoids makes a very powerful antioxidant. In this case, it prevents the free radicals in the body causing cancer disease from damaging DNA and minimizes the risk of cancer.
Helps With Weight Loss
Kiwi tea due to contains abundant dietary fiber, it reduces high cholesterol levels. In this way, it is effective to reduce the risk of possible heart disease and heart attack.
Kiwi, which provides an important advantage for those who want to lose weight, is effective in suppressing appetite and causes you to feel saturated with its fiber content.
Watch Video: Kiwi Tea: Health Benefits, Uses, Warnings And Scientific Researches
Benefits of Kiwi Tea to Skin
One of the most important additives of kiwi fruit is that it is a source of great effect in terms of vitamin C and vitamin E, which helps to renew skin cells.
If you consume kiwi with the right foods, this will greatly benefit the immune system. If you add the kiwi into the masks, it will greatly support you for glowing skin.
Kiwi Tea Recipe
Kiwi green tea recipe (Recipe is for 2 people). How to make kiwi tea?
Materials:
3 peeled medium kiwi fruit,
1/2 sliced lemon,
1 tablespoon of powdered sugar,
1 green tea bag,
500ml boiling water,
Optionally, for service; ice cubes, kiwi slices, and lemon slices.
Preparation:
Add lemon slices and tea bags to a large heat-resistant container and then pour boiling water.
Leave to infuse for 5 minutes before removing the teabag.
Meanwhile, remove the juice of kiwi with a juicer.
Add kiwi juice and sugar for infusion.
Stir until the sugar dissolves.
Then leave to cool.
Decorate with ice cubes, kiwi, and lemon slices and serve cold.
1. Yogurt And Kiwi Mask Recipe
Cut flaked slices Kiwi. (you can also use ready-made Kiwi powder)
Add a tablespoon of yogurt and mix well.
Apply equal amounts to your face.
Leave on your skin for about 15-20 minutes.
Wash with warm water and have glowing skin.
Editor's Pick: 12 Superb Benefits Of Cucumber Water: How to Make Cucumber Masks?
Side Effects of Kiwi Tea
As with every nutrient, kiwi tea and kiwi are generally considered a safe food when consumed in appropriate quantities. Vomiting can be observed in people with kiwi allergies, as can cause several problems, such as an allergic reaction.