The amazing health benefits of holy basil, also known as tulsi, include dental care, relief from respiratory diseases, high fever, asthma, heart diseases, and stress.
What is Holy Basil?
Holy basil (Ocimum sanctum) or other name tulsi is a wonderful plant that has been used in Ayurveda and other traditional medical treatments in India for hundreds of years. Also, this useful plant;
Holy basil has been used to treat bronchitis, diarrhea, stomach ailments, skin and eye diseases. It is also quite easy to grow this wonderfully fragrant plant in houses, on balconies. It is a plant that can grow easily in pots.
The leaves of the plant emit a pleasant smell when swayed. This fragrance is loved by almost everyone.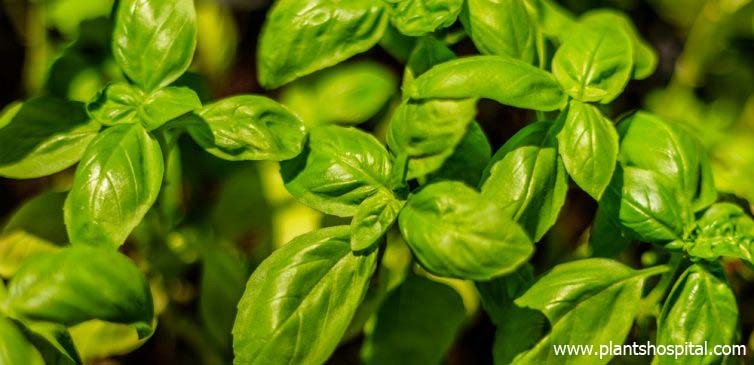 Nutrition Facts
100 gr holy basil:
92 gr. water,
3 gr. protein,
23 kcal energy,
117 mg. calcium,
0,3 gr. sugar3 mg iron,
64 mg. magnesium,
295 mg. potassium,
0,81 mg. zinc,
0,03 mg. thiamin,
Source: USDA
What Are The Health Benefits Of Holy Basil?
Reduce Stress
Vitamin C and other all antioxidants in holy basil, apart from repairing damages done by radicals, also minimize your stress caused by these oxidants.
A study published in the Journal of Ayurveda and Integrative Medicine says that lowers blood pressure, tulsi soothes the nerves, boosts immunity, eliminates inflammation, and therefore reduces stress. Potassium in holy basil also reduces blood pressure-related stress by replacing sodium and loosening the tensed blood vessels.
Skincare
By turning the dry leaves of tulsi-basil into flour and rubbing them against your face, the face improves your skin, giving you a younger and newer look.
Hair Health
150 grams of fresh Tulsi (Basil) in a liter of boiling water, close the mouth of the pot you brew thoroughly, brew for 20-30 minutes and wash your hair with the water you have brewed.
Repeat this procedure at least twice a week. Protects your hair and gives shine.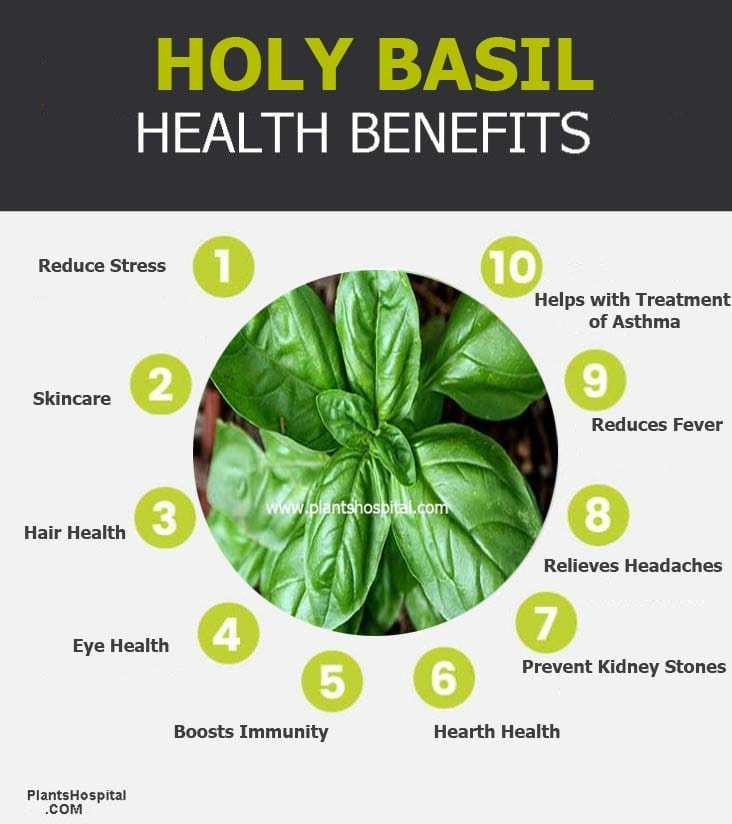 Eye Health
It is very effective in protecting eye infections like conjunctivitis, boils, and other disorders. Soak all basil leaves in water for about one hour and then use this water to wash your eyes.
Read: What is Good For Eye Redness? (Top 10 Best All-Natural Remedies)
Boosts Immunity
It is one of the most powerful natural sources for building immunity. It protects against nearly all infections from bacteria, viruses, and fungi.
Hearth Health
7-8 sprigs of basil thoroughly washed, two cups of water and one lemon by removing the kernels, add it to blander or food processor thoroughly whisked, sweetened with honey, according to the request, perform this process twice a day and drink.
Prevent Kidney Stones
It helps to clear the kidneys with the increased frequency of urine. Some ingredients in the essential oil in basil facilitate the dissolution of kidney stones.
Relieves Headaches
Migraine, sinus, cough, and headache due to cold or high blood pressure can be controlled with this medicinal plant.
Camden, eugenol, cineol, carvacrol and Methyl-chavicol in holy basil have excellent analgesic, sedative, anti-congestive and disinfectant properties.
How To Use?
Step1: Holy Basil Tea: You can use holy basil as a to relax, typically in the form of a tea. The tea also acts as an anti-inflammatory. Holy basil tea can be used to clear up congestion and prevent asthma, protects heart health, while also boosting the strength of your immune system.
Step2: Wash fresh basil with cold water to clean. To prepare a simple and delicious salad, place the mozzarella cheese and basil leaves on top of a slice of tomato. Add holy basil to the tomato soup and pasta. Holy basil tea increases the strength of the immune system.
How to Grow?
You need a hot-sunny spot that receives sunlight for at least six-seven hours daily and has enough space away from other plants.
It is a shrub and if allowed, it can very grow rapidly. Keep pruning the plants so that there are roughly 21 inches between each plant. Removing the matured leaves 1-2 times every week is essential to encourage fresh leaf growth.
Editor's Pick:
Other Benefits Of Holy Basil
It gives you energy.
Good for sleep problems.
Regulates liver function.
Fights viruses and bacteria.
It can prevent cancer.
It is a natural anti-inflammatory.
It contains high levels of calcium.
Protects against osteoporosis.
Prevents kidney stones.
It lowers the fever.
Warnings
Pregnant women should never consume it.