This article contains useful information about the benefits and damages of chasteberry tea (Vitex Agnus-Castus). Those who use chasteberry herb tea get pregnant with chasteberry seed tea, how to use chasteberry seed, how chasteberry seed is used to get pregnant, make queries chasteberry tea.
What Is Chasteberry Tea?
Chasteberry tea contains flavonoids and essential oils. Its leaves contain more flavonoids than fruit, but usually, the fruit is used to make tea. Tea itself does not contain hormones, but it causes hormone reactions within the body.
Chasteberry is often used to regulate testosterone levels in men and hormone imbalances in women. This tea is known for effectiveness in the treatment of menstrual disorders such as PMS, menopause, tenderness in the breasts, hot flashes and mood swings, infertility and decreased milk yield in breastfeeding women.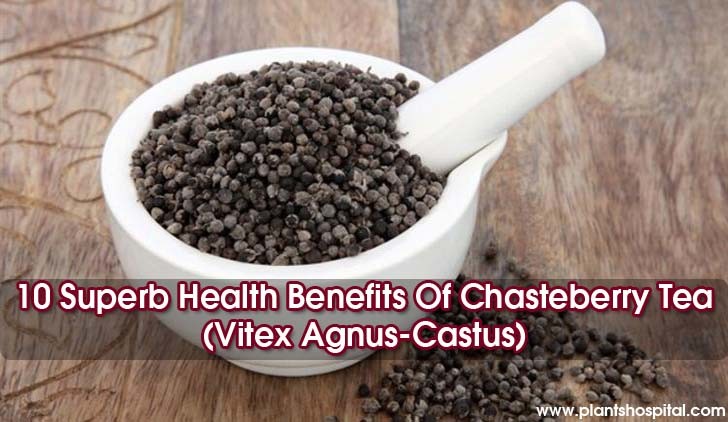 What Are the Benefits Of Chasteberry Tea?
Does Support Pregnancy Vitex Agnus-Castus?
The high rate of prolactin hormone in women causes suppressed ovulation, as well as the interruption of the monthly menstrual cycle, and may cause a condition called LPD (luteal phase defect).
Consumption of Vitex Agnus-Castus is also helpful in reducing prolactin levels, as it enables the formation of a regular menstrual cycle. It is also useful for preventing the risk of miscarriage due to low levels of progesterone in the blood. As such, it functions as a fertility aid, which increases the chances of conception.
Chasteberry Tea is Good For Premenstrual Syndrome
A scientific study has shown that consuming a mixture of chasteberry, snakeweed, and centaury tea helps alleviate some of the symptoms of premenstrual syndrome.
This tea migraine associated with PMS by stabilizing hormone levels, constipation, depression, joint pain, headache, chest pain, irritability, and anger management are becoming very useful.
It is also effective in reducing appetite, swelling, cramping, tenderness in the breasts and other symptoms of premenstrual dysphoric disorder, a more severe type of PMS.
Helps Symptoms of Menopause
Menopause can be a difficult period for women. Fatigue, mood and many other symptoms are observed during this period.
Typically, hormone replacement therapy can be applied, but this is somewhat controversial. Now women in menopause can try chasteberry tea. By drinking chasteberry tea, you can alleviate symptoms of menopause and balance the hormones of womanhood.
Chasteberry Tea Supports Increase of Breast Milk
Vitex Agnus-Castus helps to increase levels of prolactin in the body, so it is possible to increase milk. Prolactin is a female hormone that regulates milk production. If you are a breastfeeding mother, you should consult your doctor or gynecologist before using, as there are no confirmed studies to support this claim.
Has Anti-Cancer Feature
Chastebery has been found to have anti-cancer properties. As it is effective in killing tumor cells, it is highly effective in cancer types such as breast, ovary, and colon. Chasteberry extracts have been tested on colon cancer cells by Swiss researchers. Not only did it stop striking cells, but it also turned out to cause cell death.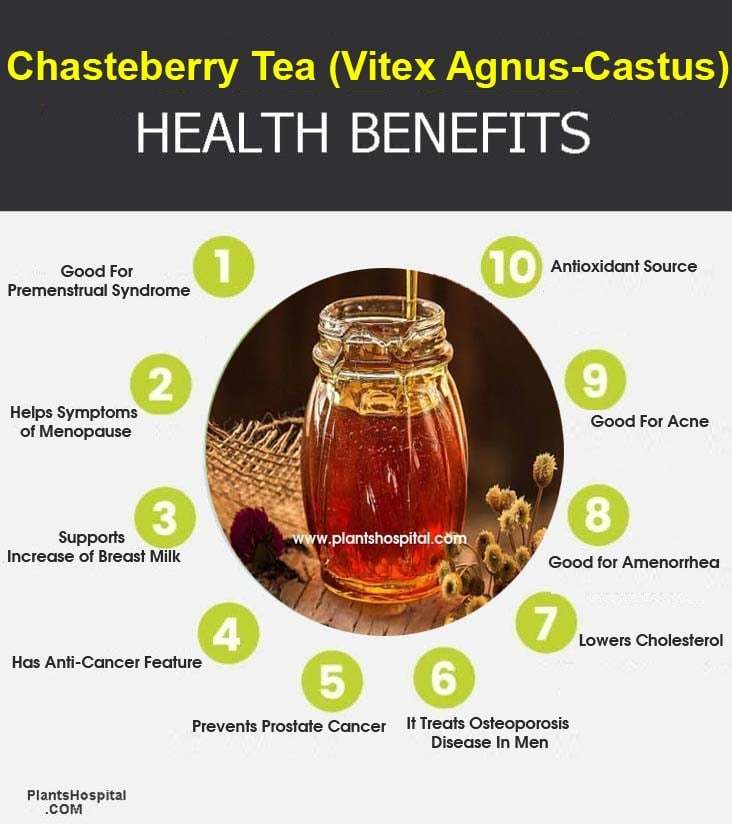 Good For Acne
Acne is more common due to hormonal changes. Because it is one of the results of acne premenstrual syndrome (PMS), chasteberry tea is often recommended for women. This tea has the potential to reduce acne density from hormone fluctuation.
It's Good for Amenorrhea
Amenorrhea is another menstrual disorder that occurs in women due to a sudden stop in the menstrual cycle. It is especially recommended to consume chasteberry tea to balance the hormones estrogen and progesterone and to start the menstrual cycle again.
Read: Bay Leaf Tea: Health Benefits, Uses, Side Effects, Warnings And More
It Has Antioxidant Properties
The herb contains several antioxidant properties that destroy free radicals circulating in the body. These free radicals can be responsible for oxidative stress at the cellular level and cause some diseases in the body, including premature aging and cancer.
Prevents Prostate Cancer
Vitex Agnus-Castus has been seen to work against prostate cancer in the body. A study conducted in Switzerland has shown that chasteberry herb extracts are effective in slowing the growth of cancer cells in the body. Prostate cancer is the most common type of cancer in men.
Read: 10 Wonderful Health Benefits Of Apple Peel Tea: Recipes & Uses
Chasteberry Tea Recipe
Materials:
1 teaspoon of fresh or dried chasteberry fruit
1 cup of hot water
Preparation:
Add hot water to chasteberry fruit and wait for it to infuse for 8-10 minutes.
Then drink warmly.
If you want to sweeten it, you can add honey.
Side Effects
Stomach disruption
Nausea
Acne
Skin rash
It can be observed in such ways.
The herb may affect menstrual bleeding or cause weight gain.
Breastfeeding or pregnant women should avoid consuming chasteberry tea because of can change hormone levels.
It is also recommended not to consume chasteberry tea in people with breast cancer or a history of breast cancer.
Vitex Agnus-Castus may interfere with antipsychotic drugs, other drugs that stimulate dopamine levels, or estrogens taken for menopause.
It is the most suitable for women. However, caution should be exercised and warnings should be considered before including them in the daily diet.