What is Ivy Roses (Rosa Rampicanti)?
Ivy roses are also referred to as Arbor rose. It is a very flowering and winding rose. Their length can be up to 2-3 meters. It is durable and cold resistant. The most important thing needs is sunlight. It is not selective in terms of soil, it can grow in all kinds of soil.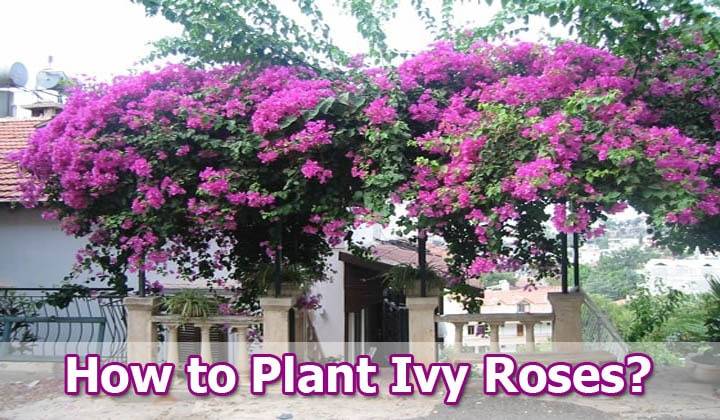 How to Plant Ivy Roses? (Rosa Rampicanti): Care -Irrıgation- Pruning
✔ The depth of place to be planted should be 60 cm width 40 x 50 cm. Planting time of ivy roses in October.
✔ Planting is recommended in March or April in parallel with climatic conditions in regions where it is passed of climate harsh in a difficult winter.
✔ Perhaps this is why the roses do not open much in the first year, but they are overcoming the danger of freezing. The most suitable air for planting is a soft, cloudy and dry weather. When planting in autumn, seedlings do not shorten.
✔ Plenty of watered ivy roses very well develop and do not remain without flowers. However, is not healthy to constantly wait for water at the bottom.
✔ Potted roses decorating our balconies should be watered more often than garden roses.
✔ Rose is the most healthy; grows in abundant iron, slightly reddish, sandy-clay soil. Too much calcareous soils are harmful to growing roses.
✔ Tree roots do not allow the development of seedlings; It is not appropriate to plant new roses near the bottom of high shrub plants, previously rose-grown soils or near old rose trees.
✔ New roses can't develop in such places, they can even die. This condition is called "rose disease". Fertilizing soil of roses every year, leads to the emergence of beauties.
✔ Ivy Rose is pruning to be shaped in the first years. Then only dry, damaged and diseased branches are extracted. Rose pruning differs according to the type of rose.
✔ The constantly opening roses are cut between January and March. Ivy roses that open only once a year should be pruning in summer, just after crossing flowers. If the pruning in the spring, they won't bloom that year.
✔ The first feeding of ivy rose plant with nutrients is done in the spring months, and this nutrition you can do this by placing fertilized manure in the soil at the root of the plant.
✔ If there is no gathering at the bottom of the rose, nutritious ingredients are scattered around.
✔ At the end of May, the second fertilization is made with special rose manure and after that, irrigation must be done very well.
✔ Also, fertilizer is very useful for roses. In July and August, ivy roses are given fertilizer for the last time for that year is recommended that no further fertilization be carried out, but the main body continues to develop until winter.
✔ The rose leaf spider lays eggs on edges of the leaf after May, and these leaves curl in the form of pipes. In this way, leaves that take around view of eggs, you need to cut these parts immediately. Especially on the bottom of the leaf, you have to spray pesticides. Repeat this process 14 days later.
Editor's Pick:
Planting Time and Growing Conditions of Ivy Roses
→ You have to wait for autumn months to planting ivy roses. October and November are the ideal dates for planting these flowers.
→ Where the climate is harsh, snow and hail will not be affected by planting should be done in March and April.
→ Ivy roses planted in the spring months are not very fruitful in the first year but will grow better in the next year.
→ On the day of planting, there should be a soft, cloudy and dry air. If you re-planted roses in a previously rose-raised soil, you must change soil because there may be a rose fatigue. At least 60 cm. it is necessary to change the soil to depth.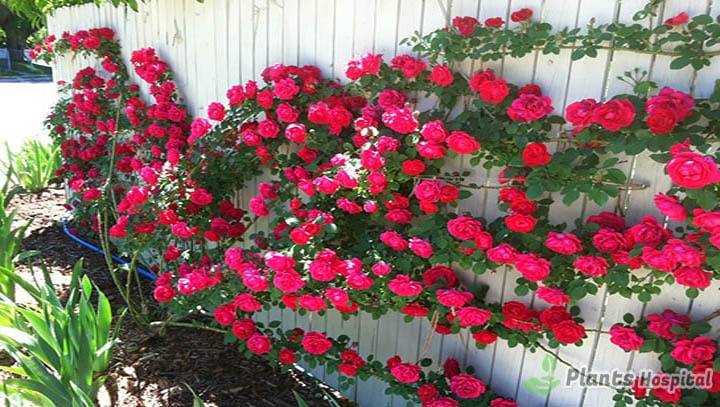 Care and Pruning
When planted ivy roses, if the container is not roses that are imported, it should be kept in water for up to 12 hours. After this time, if you are planting in spring months, you need to shorten of rose roots. Fertilization of this plant is done in the first spring months.
You can apply fertilizer to the root of roses mixed in the soil A special fertilization is made at the end of May. The second fertilization is done in July or August. In the following years, rose tree is pruned in the autumn months, and in spring you can change soil or fertilize.
Editor's Pick:
Diseases and Spraying Methods
Ivy roses are two diseases called black spots and white rose lice. To be resistant to these diseases, you need to give vitamin supplements in spring and autumn according to the color and type of flower.
If your ivy roses dry or fade with help of pruning scissors you need to cut from above roses. Thus, your plant will grow and open more efficiently.